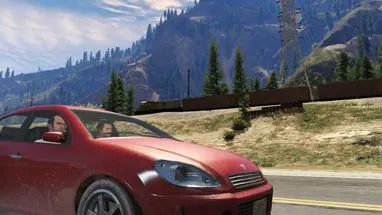 Paleto Score Setup is a main story mission in Grand Theft Auto V given by Federal Investigation Bureau (FIB) , involving protagonist Michael De Santa and Trevor Philips .
It's the 43° GTA V mission in chronological order, and it takes place in Blaine County.
Michael, Lester and Trevor check out a bank in Paleto Bay.
Gold Medal Objectives (100%)
The following are the Mission Objectives required to obtain the Gold Medal in the mission "Paleto Score Setup":
Leisurely Drive: Drive to the bank within 03:30.

Drive as quickly as possible.

Winner: Win the race back to the meth lab.
Note: You can complete each Gold Medal requirement in multiple playthroughs of the mission. You don't need to obtain them all in one single playthrough.
Paleto Score Setup - Mission Details:
Trevor and Michael meet at Trevor's meth lab in Sandy Shores. The pair engage in another argument about the lives they both leave. Their argument is interrupted when Steve and Dave show up. Dave states they have a problem, a funding issue. They need Michael and Trevor to investigate a research lab up-state, which are making nerve gas. However, the FIB doesn't have the funding for the equipment they need to carry out the task and want Michael and Trevor to come up with the money.
Michael gets annoyed about this but is left with no choice but to do the job. Michael and Trevor get in a car and start to drive towards Paleto Bay. Michael calls Lester, telling him they have a funding problem and need a job. Michael remembers Lester mentioning a bank in the sticks in Paleto Bay and asks Lester to meet him there.
Michael and Trevor get to Paleto Bay and wait at a bus stop for Lester. Once he arrives, they all get into Michael's car and go to the Blaine County Savings Bank. They check out the front and the back of the bank. Lester isn't happy with the alarm set up and wants to see how long it would take for local police to respond if the alarm is triggered.
Michael shoots the alarm, setting it off. They drive over to a local gas station and time the police response. It takes a total of sixty-seven seconds for four cars to show up. Lester has a police scanner that states the alarm to be a false alarm that they believe to be intentional. It is also mentioned that checkpoints will be set up on the Great Ocean Highway and Senora Freeway, doing car to car search and record checks.
Trevor isn't pleased with this news and gets out of the car so he can bypass the checkpoints. Trevor gets on a motorbike and challenges Michael to a race back to his lab. Once back at the lab, the group choose which gunman to pick for the heist.
Heist Crew Selection:
The following characters are available to complete the crew for The Paleto Score:
Gunman
Best Approach & Largest Possible Take
Although a cheap gunman will be killed and make casualty expenses, it is still a lesser expense than Packie, Chef or Gus cost. It is best to use Norm Richards (10.5%) as it is better to save Daryl Johns (9%) for the Big Score.
Paleto Score Setup: Mission Objectives
Get into the

car

.
Wait for

Trevor

.
Go to

Paleto Bay

.
Go to the

bank

.
Focus on the bank.
Drive to the

lot next door

.
Shoot the

alarm

.
Get back in the

car

.
Watch from the

gas station

.
Race Trevor to his

office

.
Paleto Score Setup: Mission Info
Heist Finale

Rewards

Heist Crews Members as Director Mode characters

Unlocked Items

Chef Daryl Johns
Paleto Score Setup: Videos
PS3 / Xbox 360: Gold Medal Video Walkthrough
PS4 / Xbox One (First Person): Gold Medal Video Walkthrough
Paleto Score Setup: Screenshots
Coming soon.