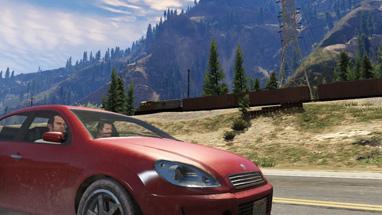 Mission Information
Mission Number

50

Mission Type

Mandatory

Mission Giver

Steve Haines

Description

Michael, Lester and Trevor check out a bank in Paleto Bay.

Protagonist (Playable)

Michael De SantaTrevor Philips

Location

Liquor Ace, Sandy Shores

State / Area

Blaine County
Heist Finale

Rewards

Heist Crews Members as Director Mode characters
Gold Medal Objectives (100%)
The following are the Mission Objectives required to obtain the Gold Medal:
Leisurely Drive: Drive to the bank within 03:30.
Winner: Win the race back to the meth lab.
Note: You can complete each Gold Medal requirement in multiple playthroughs of the mission. You don't need to obtain them all in one single playthrough.
Mission Objectives
Get into the

car

.
Wait for

Trevor

.
Go to

Paleto Bay

.
Go to the

bank

.
Focus on the bank.
Drive to the

lot next door

.
Shoot the

alarm

.
Get back in the

car

.
Watch from the

gas station

.
Race Trevor to his

office

.
Heist Crew Selection
The following characters are available to complete the crew for The Paleto Score:
Gunman
Largest Possible Take
Although a cheap gunman will be killed and make casualty expenses, it is still a lesser expense than Packie, Chef or Gus cost. It is best to use Norm Richards (10.5%) as it is better to save Daryl Johns (9%) for the Big Score.
Videos
PS3 / Xbox 360: Gold Medal Video Walkthrough
PS4 / Xbox One (First Person): Gold Medal Video Walkthrough
Screenshots
Coming soon.