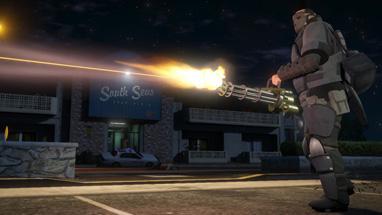 Mission Information
Mission Number

53

Mission Giver

Lester Crest

Description

Michael, Franklin and Trevor take a well-protected holding bank in sleepy fishing village, Paleto Bay.

Protagonist (Playable)

Michael De SantaFranklin ClintonTrevor Philips

Location

Liquor Ace, Sandy Shores

State / Area

Blaine County
Heist Setups

Rewards

Maximum gross take: $464,395; Small Town, Big Job achievement/trophy

Unlocked Items

Marksman RifleMGMinigun
Gold Medal Objectives (100%)
The following are the Mission Objectives required to obtain the Gold Medal:
Let it Rain: Fire over 4000 bullets.
Accuracy: Finish with a shooting accuracy of at least 50%.
Time: Complete within 16:00.
Collateral Damage: Cause $1,000,000 damage in Paleto Bay.
Note: You can complete each Gold Medal requirement in multiple playthroughs of the mission. You don't need to obtain them all in one single playthrough.
Mission Objectives
Go to the

pier

.
Park the van near the

bank entrance

.
Go

inside the bank

.
Go to the

vault

.
Take out the

cops

.
Take out the

helicopter

.
Shoot the

fence

down.
Hold off the

military

.
Go to

Michael

and

Trevor

.
Go to the

factory

.
Go to the

railway platform

.
Get on the

train

.
Heist Maximum Revenue
Although a cheap gunman will be killed and make casualty expenses, it is still a lesser expense than Packie, Chef or Gus cost. It is best to use Norm Richards (10.5%) as it is better to save Daryl Johns (9%) for the Big Score.
Maximum gross take: $8,016,020 (some will be lost during the fight)
FIB cut (78%): $6,252,496

Maximum net take: $1,763,524

Lester's cut (12%): $210,414

Crew cut (Daryl, 9%): $158,717

Crew cut (Norm, 10.5%): $185,170

Michael's cut: $464,395 (w/ Daryl) or $455,577 (w/ Norm)

Franklin's cut: $464,395 (w/ Daryl) or $455,577 (w/ Norm)

Trevor's cut: $464,395 (w/ Daryl) or $455,577 (w/ Norm)
Videos
PS3 / Xbox 360: Gold Medal Video Walkthrough
PS4 / Xbox One (First Person): Gold Medal Video Walkthrough
Screenshots