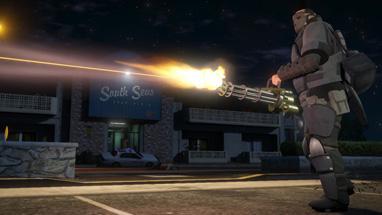 Michael, Franklin and Trevor take a well-protected holding bank in sleepy fishing village, Paleto Bay.
Mission Information
Mission Number

53

Mission Giver

Lester Crest

Protagonist (Playable)

Michael De SantaFranklin ClintonTrevor Philips

Location

Liquor Ace, Sandy Shores

State / Area

Blaine County
Heist Setups

Rewards

Maximum gross take: $464,395; Small Town, Big Job achievement/trophy

Unlocked Items

Marksman RifleMGMinigun
Gold Medal Objectives (100%)
The following are the Mission Objectives required to obtain the Gold Medal:.
Let it Rain: Fire over 4000 bullets.
Accuracy: Finish with a shooting accuracy of at least 50%.
Time: Complete within 16:00.
Collateral Damage: Cause $1,000,000 damage in Paleto Bay.
Note: You can complete each Gold Medal requirement in multiple playthroughs of the mission. You don't need to obtain them all in one single playthrough..
Mission Objectives
Go to the

pier

.
Park the van near the

bank entrance

.
Go

inside the bank

.
Go to the

vault

.
Take out the

cops

.
Take out the

helicopter

.
Shoot the

fence

down.
Hold off the

military

.
Go to

Michael

and

Trevor

.
Go to the

factory

.
Go to the

railway platform

.
Get on the

train

.
.
Heist Maximum Revenue
Although a cheap gunman will be killed and make casualty expenses, it is still a lesser expense than Packie, Chef or Gus cost. It is best to use Norm Richards (10.5%) as it is better to save Daryl Johns (9%) for the Big Score.
Maximum gross take: $8,016,020 (some will be lost during the fight)
FIB cut (78%): $6,252,496

Maximum net take: $1,763,524.

Lester's cut (12%): $210,414.

Crew cut (Daryl, 9%): $158,717.

Crew cut (Norm, 10.5%): $185,170.

Michael's cut: $464,395 (w/ Daryl) or $455,577 (w/ Norm).

Franklin's cut: $464,395 (w/ Daryl) or $455,577 (w/ Norm).

Trevor's cut: $464,395 (w/ Daryl) or $455,577 (w/ Norm).
Videos
PS3 / Xbox 360: Gold Medal Video Walkthrough
PS4 / Xbox One (First Person): Gold Medal Video Walkthrough
Screenshots