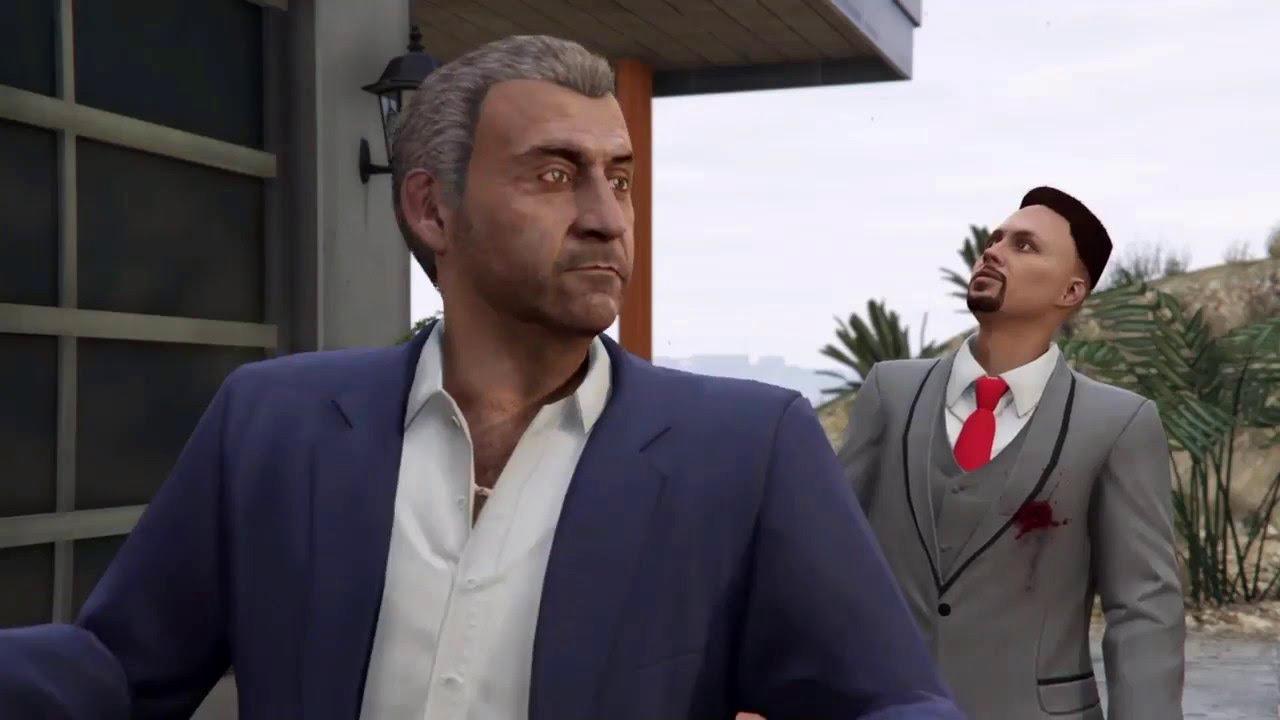 Martin Madrazo appears as a Supporting Character in Grand Theft Auto V, as well as a character in GTA Online.
Martin Madrazo is a Mexican businessman and leader of the Madrazo Cartel. It's implied that he is a drug lord, as several witnesses to his Cartel's crimes have been silenced, even though he insists to be a legitimate businessman.
At some point in his life, Madrazo became the head of the most ruthless Mexican narcotic gangs in Los Santos. He has been summoned to several court cases involving his gang activity, but hasn't been convicted as his witnesses willing to testify were silenced. He is often described as a psychopath because of his short temper and ruthless methods of dealing with people who cross him. He appears to be a misogynist, mistreating his wife and having affairs with multiple women. Despite this, he seems to respect people who respect him back, and is afraid of people that can match his psychopathic tendencies, seen when Trevor threatens him should he ever mistreat his wife, Patricia, again.
Michael finds himself owing Madrazo a lot of money after pulling down his mistress' deck, after finding out Amanda had been cheating on him with Kyle Chavis, her tennis coach. Madrazo appears at Michael's mansion and demands he pay the $2,5 million necessary to repair the destroyed house. Once Michael pays for the reparations with stolen money from the Vangelico Jewel Store, Madrazo shows his gratitude and is pleased that Michael kept his word, even employing him and Trevor for future business.
In Grand Theft Auto: Online, Martin contacts the player upon reaching rank 18 to offer them work. His missions often involve the elimination of rivals, enemies and other threats to his business. He reappears with more job offers in 2018, as part of the Southern San Andreas Super Sport Series, and later in 2020 as part of the Cayo Perico Heist. He is friendly to the Online protagonists, calling them his friend after they complete jobs for him.
The Online Protagonist can call Martin Madrazo to request a previously completed job for no cost.
Martin Madrazo: Character Info
Role

Supporting Character

Gender

Male

Nationality

Mexico

Location

La Fuente Blanca (Senora Road); 2884 Hillcrest Avenue, Hillcrest Avenue, Vinewood Hills (Los Santos)

Occupation

Madrazo Cartel

Performer / Actor

Alfredo Huereca

Family

Affiliation

El Rubio

Playability

Non-Playable

Vehicle
Martin Madrazo: Appearances
Game Edition

GTA OnlineGTA V Story Mode

Platforms

PC

PlayStation 4

Xbox One

PlayStation 3

Xbox 360
Martin Madrazo Missions in Grand Theft Auto V:

Appearances in Story Missions:
Martin Madrazo Screenshots
Martin Madrazo Artworks
Coming soon.