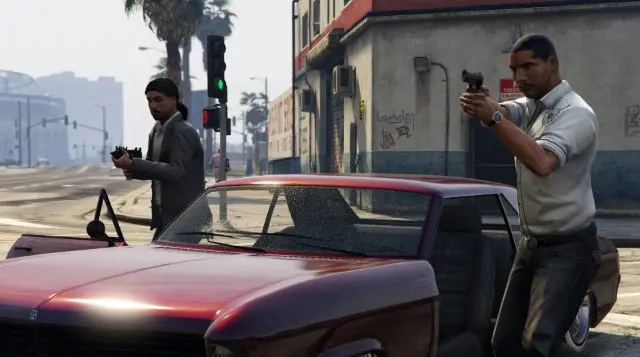 The Madrazo Cartel is a Gang featured in Grand Theft Auto V and GTA Online.
The Madrazo Cartel is a Mexican Drug Cartel that appears both in the Story Mode and Online versions of GTA: V, and is led by Martin Madrazo and his family.
The gang appears during Marriage Counseling, where they attempt to kill Michael for tearing down the deck of a property that belonged to Martin Madrazo. Michael now owes Madrazo 2.5$ dollars and has to get back into the crime game to acquire the money.
Members of the gang can be seen wearing Flying Bravo shirts, varying in color and design, usually with numbers on their sleeves. They are not directly hostile to the player unless they stay in their vicinity for too long.
Madrazo Cartel: GTA V Info
Group Type

Gang

Faction Type

Mexican-American Drug Cartel

Nationality

MexicoUnited States

Location

La Fuente Blanca, Senora Road

Occupation

Drug Dealing; Prostitution; Arms Trafficking; Contraband

Also Known As

Madrazo Crime Family; The Cartel

Members

Miguel Madrazo Javier Madrazo

Affiliation

Korean Mob Oscar Guzman Triads Vagos
Madrazo Cartel: GTA V Appearances
Appearances in Story Missions: