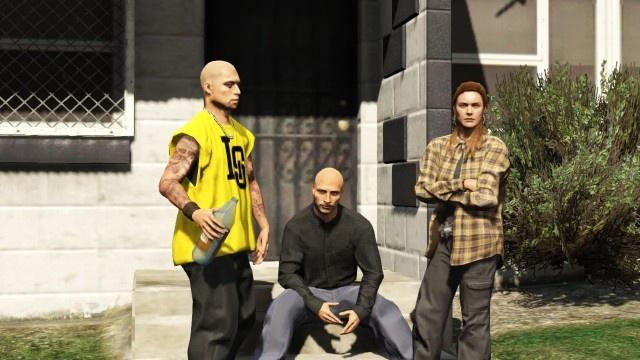 The Vagos are a Gang featured in Grand Theft Auto V and GTA Online.
The Los Santos Vagos are the largest Mexican Gang in Los Santos, and are separated into three sets:
North Side Vagos: In the North side of Rancho, at war with the Aztecas.
Original LS Vagos: South side of Rancho, at war with the Ballas.
East Side Vagos: Controls Cypress Flats and the East side of Rancho.
Many of the Vagos' leaders are incarcerated, but run their network through cellphones. Their hierarchy is very competitive, meaning that if a leader is eliminated, many others compete to take their place.
Vagos members can be seen drinking, driving and hanging out in groups of 2-5, smoking cigarettes, marijuana and drinking beer. They are easy to identify by their urban attire and their representative yellow colored clothing.
This Gang also appears in GTA San Andreas.
Vagos: GTA V Info
Group Type

Gang

Faction Type

Mexican Street Gang. Identified by their yellow color.

Nationality

Mexico

Location

Rancho; Cypress Flats

Occupation

Drug Trafficking; Weapons Trafficking; Contraband; Vehicles Trafficking; Document Forgery

Also Known As

LSV; Los Santos Vagos

Gang Colors

Yellow

Front Companies

Rancho Projects; McKenzie Field Hangar

Members

Gustavo Mota

Affiliation

Madrazo CartelThe Lost MC

Vehicles

BallerBaller STBarrageBMXBuccaneerBuzzardCargobobCavalcadeContenderDinghy (4-seater)EmperorFroggerGrangerHalf-trackHuntley SMananaPCJ 600PeyotePhoenixSabre TurboSuperVolitoTornadoTropicVelum 5-SeaterVigeroVirgo ClassicVoodooWeaponized TampaYouga Classic
Vagos: GTA V Appearances
Appearances in Story Missions: