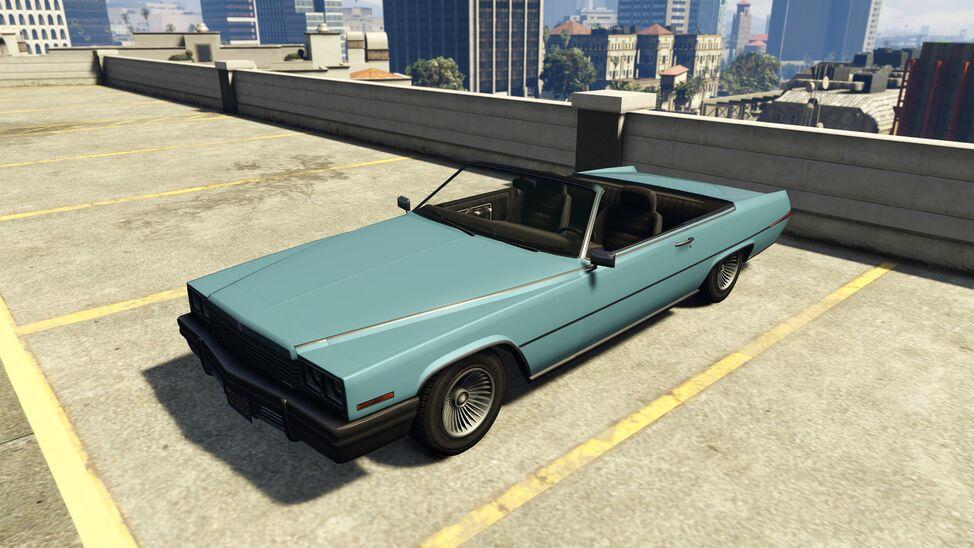 The Albany Manana is a Sports Classics Car featured in Grand Theft Auto V and GTA Online.
It can also come in a Topless variant, with the option to add or remove the roof when customizing the vehicle.
This vehicle also appears in Grand Theft Auto IV, GTA San Andreas, GTA Vice City, Grand Theft Auto III, GTA Vice City Stories and GTA Liberty City Stories.
How to get the Manana in GTA 5 Story Mode:
In GTA V Story Mode, the Manana can only be found and stolen (see the spawn locations in the "Appearances" section below). It is not available for purchase.
How to get the Manana in GTA Online:
The Manana can be simply found and stolen on the street (see the spawn locations in the "Appearances" section below), or it can be purchased for a price of $10,000.
The Manana can be stored in any of your Properties/Garages as a Personal Vehicle. It can be customized at Los Santos Customs and Benny's Original Motor Works. You can also modify it in a Vehicle Workshop inside one of your owned properties.
Once acquired, you can request the delivery of the Manana from the Mechanic.
Albany Manana in Real Life:
The design of the Albany Manana is based on a real life Buick LeSabre, Cadillac Eldorado.
Albany Manana Top Speed:
The actual top speed of the Manana in GTA V is 98.25 mph (158.12 km/h) when it's fully upgraded, as it's been accurately tested in-game by Broughy1322.
Can you sell the Manana in GTA Online?
Yes, it's possible to sell the Manana. If you purchased the vehicle, you can sell it for a resale price of $6,000 (60% of the original purchase), plus 50% of the value of your upgrades. Otherwise, if you stole the Manana from the street, you can sell it for $800.
There is also a pre-modified NPC variant of the Manana that can be stolen and sold for a much higher resale value of $7,520. It can only be found around Gang Territories, in three different variations based on the Gang colors: Green (Families Gang), Purple (Ballas Gang) or Yellow (Vagos Gang).
Manana: GTA V Vehicle Info
Seats

2

Mass / Weight

2,100

KG

Drive Train

RWD

Gears

4
Manana: GTA V Performance
The below Top Speed & Lap Time have been accurately tested by
Broughy
.
Top Speed - Real

98.25 mph (158.12 km/h)

Lap Time

1:23.183

Bulletproof

No

Explosive Resistance

Amount of explosives required to destroy the Manana, with 100% armor, and occupied by a player:

| Explosive Weapon | Amount |
| --- | --- |
| Homing Launcher / Oppressor Missiles / Jet Missiles | 1 |
| RPG / Grenades / Sticky Bomb / MOC Cannon | 1 |
| Explosive Rounds (Heavy Sniper Mk II) | 2 |
| Tank Cannon (Rhino / APC) | 1 |
| Anti-Aircraft Trailer Dual 20mm Flak | 1 |
Manana: GTA V Statistics
Speed

69.75

Acceleration

40.00

Braking

8.33

Handling

59.09

Overall

44.29
Note: The above statistics are coming from the Rockstar official website.
Manana Description:
The Manana is the kind of history they don't put in the books. It's the story of every other drive-by and drug deal ever to take place in Los Santos, and there's only one man who can write the next chapter. Benny knows this build down to the last millimeter, he knows how to do it justice, and he knows that taking a power hose to the inside of the trunk is always job one. Eligible for customization at Benny's Original Motor Works.
Manana: GTA V Appearances
Manana Spawn Locations in Grand Theft Auto V

Where to find the Manana in

GTA Online and GTA V Story Mode

:

Strawberry
Families Variant: Chamberlain Hills
Vagos Variant: Rancho
Ballas Variant: Grove Street

Notable Owners:

Ballas The Families Marabunta Grande Vagos

Appearances in Story Missions:

Similar Vehicles
Model ID

manana

Default Radio Stations

East Los FM

Manana: Vehicle Customization

Total Cost to Fully Upgrade in GTA Online

$136,100

Modification
Story Price
GTA Online Price
Armor

No Armor

$100

$200

Armor Upgrade 20%

$500

$4,500

Armor Upgrade 40%

$1,250

$7,500

Armor Upgrade 60%

$2,000

$12,000

Armor Upgrade 80%

$3,500

$21,000

Armor Upgrade 100%

$5,000

$30,000

Brakes

Stock Brakes

$100

$200

Street Brakes

$2,000

$4,000

Sport Brakes

$2,700

$5,400

Race Brakes

$3,500

$7,000

Body Work

Stock Bodywork

$350

$700

Painted Fender Skirt

$550

$1,100

Painted & Chrome Fender Skirt

$675

$1,350

Bumpers

Stock Front Bumper

$250

$500

Bumper Detail & Lower Lip

$500

$1,000

Bumper Detail

$750

$1,500

Lower Lip

$1,000

$2,000

Stock Rear Bumper

$250

$500

Curb Feelers

$500

$1,000

Engine

EMS Upgrade, Level 1

$900

$1,800

EMS Upgrade, Level 2

$1,250

$2,500

EMS Upgrade, Level 3

$1,800

$3,600

EMS Upgrade, Level 4

$3,350

$6,700

Engine Bay

Stock Engine Bay

$150

$300

Triple Intake Bug Catcher

$325

$650

Single Intake Bug Catcher

$750

$1,500

Exhaust

Stock Exhaust

$130

$260

Dual Shotgun Exhaust

$375

$750

Double Exhaust

$899

$1,800

Explosives

Ignition Bomb

N/A

$5,000

Remote Bomb

N/A

$7,500

Fenders

Stock Fenders

$150

$300

Arch Flames

$450

$900

Grilles

Stock Grille

$100

$200

Headlight Grilles

$375

$750

Horns
See the full list of the available Horns options »
Lights > Headlights

Stock Lights

$100

$200

Xenon Lights

$300

$3,000

Lights > Neon Kits
See the full list of the available Neon Kits options »
Plates

Blue on White 1

$50

$200

Blue on White 2

$50

$200

Blue on White 3

$50

$200

Yellow on Blue

$75

$300

Yellow on Black

$150

$600

Respray
See the full list of the available Respray options »
Transmission

Stock Transmission

$100

$1,000

Street Transmission

$2,950

$5,900

Sports Transmission

$3,250

$6,500

Race Transmission

$4,000

$8,000

Turbo

No Turbo

$500

$1,000

Turbo Tuning

$2,500

$30,000

Wheels > Wheel Type
See the full list of the available Wheel Types options »
Wheels > Wheel Color
See the full list of the available Wheel Colors options »
Wheels > Tire Design

Stock Tires

$100

$200

Custom Tires

$2,500

$5,000

Wheels > Tire Enhancements

Standard Tires

$350

$200

Bulletproof Tires

$4,000

$25,000 (Rank 20)

Low Grip Tires

N/A

$500 (at LS Car Meet)

Wheels > Tire Smoke
See the full list of the available Tire Smoke options »
Windows

None

$100

$500

Light Smoke

$200

$1,500

Dark Smoke

$450

$3,500

Limo

$700

$5,000
Manana: GTA V Screenshots
Manana: Custom Paint Jobs