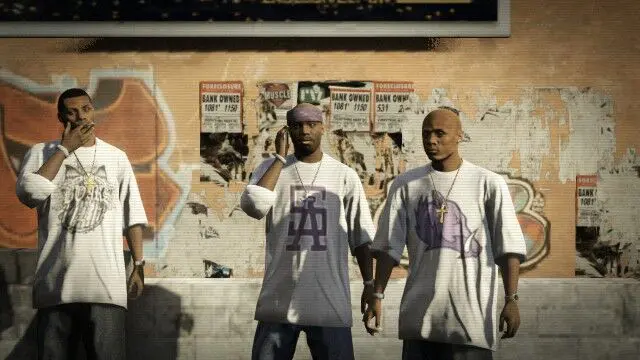 The Ballas are a Gang featured in Grand Theft Auto V and GTA Online.
The Ballas are a large African American street gang, featured both in the Story Mode and Online versions of GTA V They mainly operate in the cities of Los Santos and Davis, dealing with drug trading, drug manufacturing and others.
They maintain their traditional rivalry with the Families and may attack Franklin on sight, albeit usually only when provoked. They sport the usual purple Ballas outfits and can be seen drinking, driving cars and bikes and even walking dogs.
Ballas members wield pistols and knives, and smoke cigarettes, marijuana and drink Pißwasser.
This Gang also appears in GTA San Andreas.
Ballas: GTA V Info
Group Type

Gang

Faction Type

African-American Street Gang. Identified by their purple color.

Nationality

United States

Location

Davis; Chamberlain Hills; Rancho

Occupation

Drug Trafficking; Drug Manufacturing; Weapons Trafficking

Gang Colors

Purple

Front Companies

Paleto Forest Sawmill; Grove Street

Affiliation

StretchThe Families

Vehicles

BallerBati 801BMXBuccaneerChinoEmperorFactionFelonFroggerJackalMananaMoonbeamOracleOracle XSPeyotePrimoRuffianSabre TurboThrustTornadoVirgo ClassicVoodoo
Ballas: GTA V Appearances
Appearances in Story Missions: