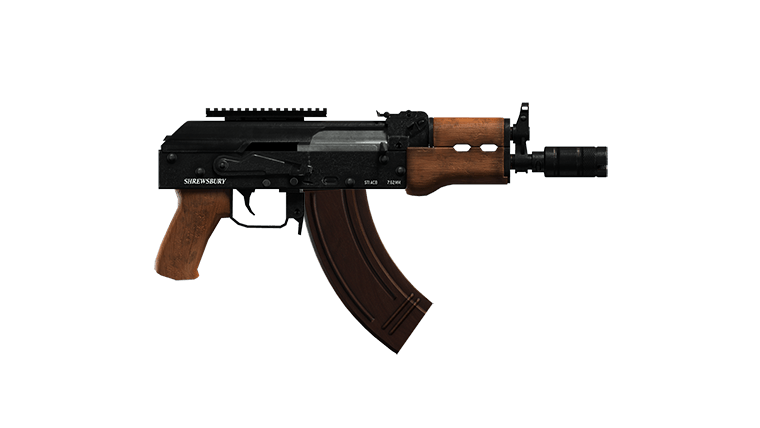 The Compact Rifle is a weapon in the Assault Rifles class featured in GTA Online, added to the game as part of the 1.33 Lowriders: Custom Classics update on March 15, 2016.
The design of the Compact Rifle is based on a real life Draco AK Pistol. The in-game version of the weapon is manufactured by Shrewsbury.
This weapon can be customized with various attachments and tints, which you can see below.
How to get the Compact Rifle in GTA Online:
The Compact Rifle can be purchased in GTA Online from Ammu-Nation for a price of $14,650.
Compact Rifle Description:
Half the size, all the power, double the recoil: there's no riskier way to say "I'm compensating for something".
Compact Rifle: GTA V Statistics
Damage

36.00

Fire Rate

60.00

Accuracy

35.00

Range

45.00

Clip Size

40.00

Overall

43.20
Unlock Rank

1

Ammo Capacity

30

Extended Ammo

100
Compact Rifle: GTA V Info
Manufacturer

Shrewsbury

Weapon Class

Assault Rifles

Acquisition

Ammu-Nation

GTA Online Price

$14,650

Modifications

Can be modified

Based on (Real Life)

Draco AK Pistol
Compact Rifle: GTA Online Weapon Customization
Rounds & magazine
GTA Online

Rounds (60)

$108

Default clip (30 rounds)

Default

Extended clip (60 rounds)

$9,950

Drum Magazine (100 rounds)

$26,850
Tints

Black

Default

Army

$5,000

Green (Collector's and Enhanced Edition)

$5,250

Orange (Collector's and Enhanced Edition)

$5,500

LSPD

$5,750

Pink (Collector's and Enhanced Edition)

$7,500

Gold (Collector's and Enhanced Edition)

$10,000

Platinum (Collector's and Enhanced Edition)

$12,500
Compact Rifle: GTA V Appearances
Compact Rifle: GTA V Screenshots