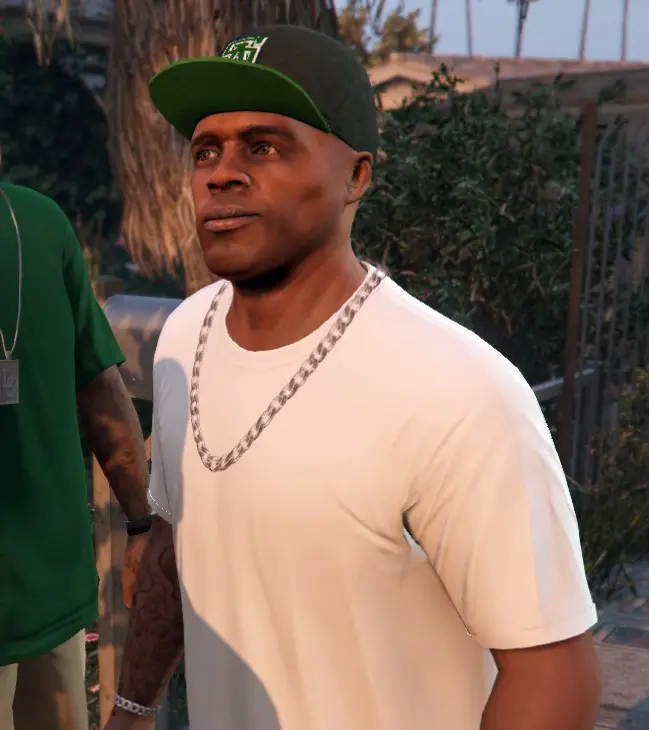 Stretch appears as a Major Character and Antagonist in Grand Theft Auto V.
Harold "Stretch" Joseph is a high-ranking member of The Families who, while being considered a friend by Lamar, constantly endangers both Lamar and Franklin by sending them on jobs that tend to go horribly wrong.
He was born in Los Santos and joined the Chamberlain Gangsters Families at a young age, working his way up through the ranks to become a senior and respected veteran member within the gang. He became friends with up-and-coming members Lamar Davis and Franklin Clinton, the latter, however, developing an antagonistic relationship with him, presumably due to his selfish behavior.
At some point prior to the events of Grand Theft Auto: V, Stretch was arrested and taken to prison. He returned from the prison near the beginning of the game's events and sent Franklin and Lamar on some tasks that nearly cost them their life multiple times, even having Lamar kidnapped in by the Ballas.
Stretch is an extremely murderous and violent gangster. He and Franklin mutually dislike each other, leaving Lamar to pick a side, although he tries to stay neutral. He has a very short temper, assaulting Franklin for poking fun at him, and is also shown to be merciless when he shoots an unarmed D without hesitation. Despite his recklessness, Stretch is very deceitful and manipulative, betraying the Families and joining the Ballas, using his influence on Lamar to manipulate him and make him think that Franklin is a snitch.
Stretch: Character Info
Gender

Male

Nationality

United States

Location

Strawberry, Los Santos

Occupation

Drug dealing; Gang banging

Also Known As

Harold Joseph

Performer / Actor

Hassan Johnson

Affiliation

Franklin ClintonLamar DavisThe Families

Playability

Director Mode

Vehicle
Stretch: Appearances
Game Edition

GTA V Story Mode

Platforms

PC

PlayStation 4

Xbox One

PlayStation 3

Xbox 360
Appearances in Story Missions:
Stretch Screenshots
Stretch Artworks
Coming soon.