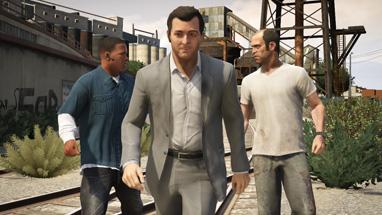 Franklin chooses Deathwish. Ambush FIB agents and Merryweather mercenaries at the foundry in Murrieta Heights, then target Wei Cheng, Stretch, Steve Haines and Devin Weston.
Mission Information
Mission Number

83

Mission Type

Branching Choice

Mission Giver

Lester Crest

Protagonist (Playable)

Michael De SantaFranklin ClintonTrevor Philips

Location

Lester's House; Grand Banks Steel Foundry; Del Perro Pier; B.J. Smith Recreational Center; Pacific Bluffs Country Club; Devin Weston's Mansion; Paleto Cove

State / Area

Los Santos
Notes

This is a branching mission that is played when choosing Deathwish (Option C)

Rewards

The Big Score Payout (Maximum gross take: $201,600,000); To Live or Die in Los Santos Achievement/Trophy

Unlocked Items

Gusenberg SweeperMrs. Philips
Gold Medal Objectives (100%)
The following are the Mission Objectives required to obtain the Gold Medal:.
Time: Complete within 21:30.
Headshots: Kill 20 enemies with a headshot.
Accuracy: Finish with a shooting accuracy of at least 70%.
Stick, Tick... Boom!: Kill Cheng with a Sticky Bomb.
Lead Lobotomy: Kill Steve Haines with a headshot.
Stretched Out: Kill Stretch with a melee attack.
Note: You can complete each Gold Medal requirement in multiple playthroughs of the mission. You don't need to obtain them all in one single playthrough..
Mission Objectives
Go pick up Lamar at his

house

.
Go to the

foundry

.
Enter the

foundry

.
Ambush the

FIB team

when ready.
Go to

Lamar

.
Take out the

attackers

.
Rescue

Trevor

.
Take out the

attackers

.
Go outside.
Take out the

attackers

.
Regroup outside the

main doors

.
Get rid of

Mr. Cheng

.
Escape the

Triads

.
Take out

Stretch

.
Escape the

Ballas

.
Bring down

Haines

.
Lose the Cops.
Go to

Devin's house

.
Kidnap

Devin

.
Take out the

guards

.
Go to the

rendezvous point

.
Finish Devin.
Videos
PS3 / Xbox 360: Gold Medal Video Walkthrough
PS4 / Xbox One (First Person): Gold Medal Video Walkthrough
Screenshots
Artworks