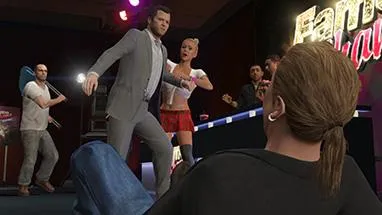 Fame Or Shame is a main story mission in Grand Theft Auto V given by Michael De Santa, involving protagonist Michael De Santa and Trevor Philips.
It's the 21° GTA V mission in chronological order, and it takes place in Los Santos.
Tracey auditions for Fame or Shame.
Gold Medal Objectives (100%)
The following are the Mission Objectives required to obtain the Gold Medal in the mission "Fame Or Shame":
Fastest Speed: Reach top speed in the Phantom

The Hawick and Davis Avenue straights are optimal for reaching top speed.

Bearing Down: Stay close to Lazlow throughout the chase.

Drive carefully around traffic and telegraph poles to not get slowed down.

No, I Can Park Here: Knock out the event coordinator.

Knock out the man next to the parking space.

All Hooked Up: Don't unhook the trailer.

Don't manually unhook the trailer.
Drive carefully to not crash.
Note: You can complete each Gold Medal requirement in multiple playthroughs of the mission. You don't need to obtain them all in one single playthrough.
Fame Or Shame - Mission Details:
The mission starts with Michael and Amanda in an argument after finding Jimmy's weed in the fridge. Jimmy comes downstairs and also joins in the argument. Amanda is now annoyed her yoga session has been ruined as she's no longer calm. As the trio continue to shout, with Amanda's yoga instructor Fabien watching in, Trevor walks in the room, calm stating "Did somebody say yoga?".
The group quietens, in shock with who they see. Trevor calmly heckles Michael and greets Amanda, Jimmy and Fabien. He notices Tracey isn't about. Jimmy tells the room that she's auditioning for Fame or Shame. He tells Michael and Trevor that the auditions are being held at the Maze Bank Arena. Trevor gets annoyed with this revelation, believing Tracey will humiliate herself on T.V. Michael and Trevor puts their differences aside for the moment and goes to stop Tracey.
The pair drive to the Maze Bank Arena. On the way, the pair argue over what went down in North Yankton. The arguing subdues and they engage in a semi-pleasant conversation, catching up.
Once at the Maze Bank Arena, they head to the audition room where is about to perform. She notices Michael and Trevor, hugs Trevor and then performs an erotic dance. The show's presenter, Lazlow, gets handsy with Tracey, much to Michael's annoyance. He throws Lazlow off Tracey but Lazlow escapes. Trevor and Michael chase after Lazlow who eventually gets in a car. The pair steal a truck and continue pursuing him.
Lazlow's car eventually comes to a stop when his car breaks down in the Los Santos Storm Drain. The pair crowd him and make him dance without his pants off. Trevor records it so he has something to blackmail Lazlow with. The pair eventually let him go and go off their separate ways. Michael calls Dave saying they need to talk.
Fame Or Shame: Mission Objectives
Go to the

Maze Bank Arena

.
Go inside.
Chase after

Lazlow

.
Get in the

truck

.
Fame Or Shame: Mission Info
Mission Number

21

Mission Type

Mandatory Mission

Mission Giver

Michael De Santa

Protagonist (Playable)

Michael De SantaTrevor Philips

Location

De Santa Residence, Rockford Hills

State / Area

Los Santos
Rewards

A Friendship Resurrected achievement/trophy; Trevor as a contact for Michael; The Jewel Store Payout; Lazlow Jones and Fabien LaRouche as Director Mode characters.

Unlocked Items

Far OutNigel and Mrs. ThornhillGTA 5 Lester's Assassinations Guide: How To Make $2 Billion with Stock Market
Fame Or Shame: Videos
PS3 / Xbox 360: Gold Medal Video Walkthrough
PS4 / Xbox One (First Person): Gold Medal Video Walkthrough
Fame Or Shame: Screenshots
Artworks