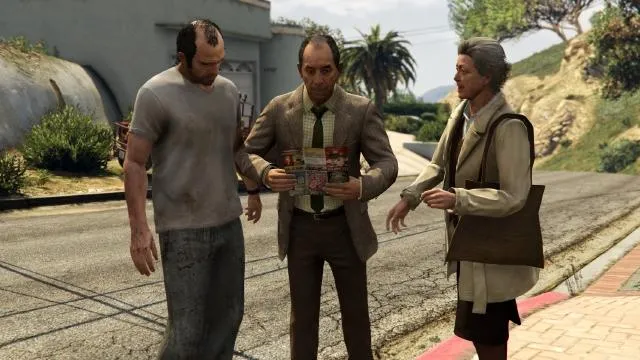 Nigel and Mrs. Thornhill is a Strangers & Freaks side mission in Grand Theft Auto V given by Mrs. Thornhill and Nigel, involving protagonist Trevor Philips.
The mission becomes available after completing the Fame Or Shame story mission.
It's the first mission for Mrs. Thornhill, Nigel.
This is an optional mission, not required for 100% completion of the game.
Nigel and Mrs. Thornhill - Mission Details:
Trevor is mistaken for Jock Cranley by Nigel and Mrs. Thornhill.
Trevor meets Nigel and Mrs. Thornhill, two British tourists that are rummaging through trash bins outside houses in Vinewood Hills. They tell him to ignore them but Nigel seems to think Trevor is Jock Cranley. Before Trevor can tell him they're wrong, Nigel asks for a photo and tells Trevor to pretend to throttle him as he did on a show.
Trevor starts to choke Nigel and Mrs. Thornhill hits him with her bag. Trevor lets go and the pair start bowing to him saying "We are not worthy". Trevor then breaks the news to them that he's not Jock. The pair then explain their love for celebrities and the reason why they're rummaging through garbage is so they can get some celebrity souvenirs.
They ask Trevor for help in obtaining a few more souvenirs. Once the pair leaves, Nigel emails Trevor, giving him locations of celebrities they want souvenirs from.
Gold Medal Objectives (100%)
There are no Gold requirements for this mission.
Nigel and Mrs. Thornhill: Mission Objectives
This mission has no objectives.
Nigel and Mrs. Thornhill: Mission Info
Mission Type

Strangers and Freaks

Mission Giver

Mrs. Thornhill, Nigel

Protagonist (Playable)

Trevor Philips

Location

North Sheldon Avenue, Vinewood Hills

State / Area

Los Santos

Available After Mission (Story Mode)

Required for 100%

No
Featuring

Mrs. Thornhill

Notes

Not The mission cannot be replayed afterward, as it's just a cutscene with no objectives to complete.
Nigel and Mrs. Thornhill: Videos
PS3 / Xbox 360: Gold Medal Video Walkthrough
PC: Gold Medal Video Walkthrough