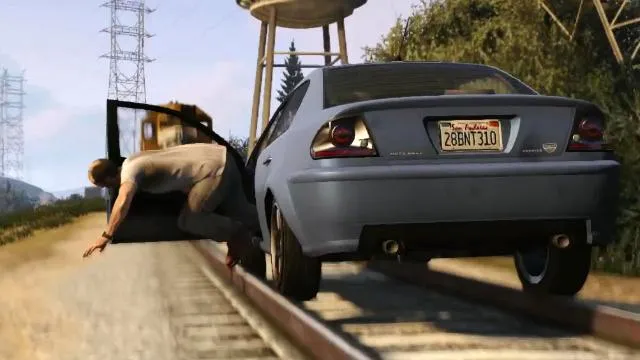 Vinewood Souvenirs - The Last Act is a Strangers & Freaks side mission in Grand Theft Auto V given by Mrs. Thornhill and Nigel, involving protagonist Trevor Philips.
It's the 7° mission for Mrs. Thornhill, Nigel, after the Vinewood Souvenirs - Al Di Napoli mission.
This is an optional mission, not required for 100% completion of the game.
Vinewood Souvenirs - The Last Act - Mission Details:
Trevor gets to decide Al Di Napoli's fate.
Trevor meets Nigel and Mrs. Thornhill down an alley in Strawberry. Nigel is worried about what to do with Al Di Napoli after kidnapping him. Trevor gives them a couple of options but they ask Trevor to handle it.
Trevor starts to drive to the train tracks at Palmer-Taylor Power Station. Al Di Napoli pleads with Trevor to let him go. If Trevor lets him go then he'll give Trevor anywhere between $3,000 to $10,000 and promise not to tell anyone.
If Trevor continues on to the train tracks, he'll leave the car on the tracks and get out. A train then passes through and destroys the car, killing Al Di Napoli. Trevor will then call Nigel to tell him Al Di Napoli has passed and to enjoy the rest of their vacation.
Gold Medal Objectives (100%)
The following are the Mission Objectives required to obtain the Gold Medal in the mission "Vinewood Souvenirs - The Last Act":
Skin of your Teeth: Exit the car just before the train hits
Locomotivation: Kill Al Di Napoli using the train
Note: You can complete each Gold Medal requirement in multiple playthroughs of the mission. You don't need to obtain them all in one single playthrough.
Vinewood Souvenirs - The Last Act: Mission Objectives
Get in Nigel's

car

.
Go to the

train tracks

.
Leave the car on the tracks.
Vinewood Souvenirs - The Last Act: Mission Info
Mission Type

Strangers and Freaks

Mission Giver

Mrs. Thornhill, Nigel

Protagonist (Playable)

Trevor Philips

Location

Power Street, Strawberry

State / Area

Los Santos

Required for 100%

No
Rewards

Up to $10,000

Featuring

Freight TrainMrs. ThornhillAl Di Napoli
Vinewood Souvenirs - The Last Act: Videos
PS3 / Xbox 360: Gold Medal Video Walkthrough
PC: Gold Medal Video Walkthrough