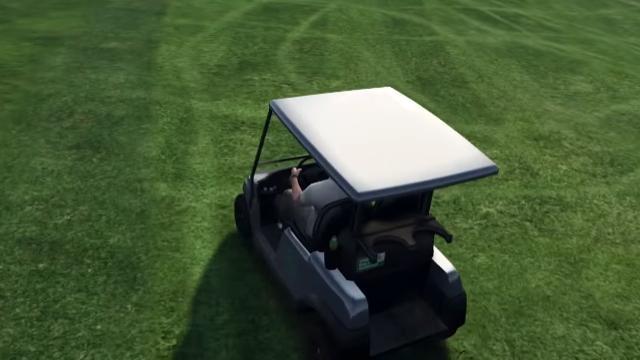 Vinewood Souvenirs - Mark is a Strangers & Freaks side mission in Grand Theft Auto V given by Mrs. Thornhill and Nigel , involving protagonist Trevor Philips .
It's the 5° mission for Mrs. Thornhill and Nigel , after the Vinewood Souvenirs - Kerry mission.
This is an optional mission, not required for 100% completion of the game.
Vinewood Souvenirs - Mark - Mission Details:
Trevor steals Mark Fostenburg's golf club for Nigel and Mrs. Thornhill.
Trevor must now obtain a golf club from Mark Fostenburg. Mark can be located playing golf at the Los Santos Golf Club in Rockford Hills.
Mark is surrounded by bodyguards. The best way to get the golf club is to snipe Mark from a distance and retrieve the club. Trevor will gain a two-star wanted level. Lose the cops then call Nigel to let him know the task is complete.
Gold Medal Objectives (100%)
The following are the Mission Objectives required to obtain the Gold Medal in the mission "Vinewood Souvenirs - Mark":
Under Par: Collect the golf club in less than 30 seconds
Hole in One: Kill Fostenburg with a headshot
Four!: Kill Fostenburg and his three security guards
Note: You can complete each Gold Medal requirement in multiple playthroughs of the mission. You don't need to obtain them all in one single playthrough.
Vinewood Souvenirs - Mark: Mission Objectives
Steal the golf club from

Mark Fostenburg

.
Collect the

golf club

.
Lose the Cops.
Vinewood Souvenirs - Mark: Mission Info
Featuring

Caddy (Golf) Los Santos Golf Club Mark Fostenburg
Vinewood Souvenirs - Mark: Videos
PS3 / Xbox 360: Gold Medal Video Walkthrough
PC: Gold Medal Video Walkthrough