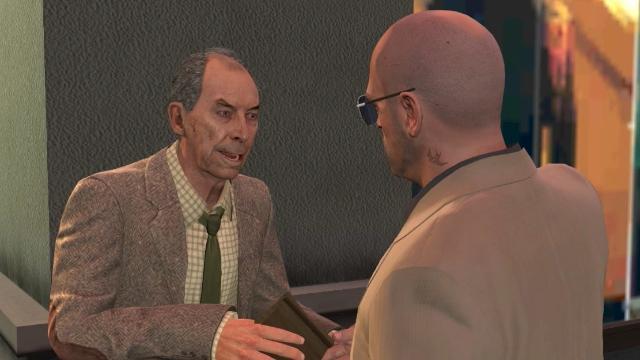 Vinewood Souvenirs - Al Di Napoli is a Strangers & Freaks side mission in Grand Theft Auto V given by Mrs. Thornhill and Nigel, involving protagonist Trevor Philips.
It's the 6° mission for Mrs. Thornhill, Nigel, after the Vinewood Souvenirs - Mark mission.
This is an optional mission, not required for 100% completion of the game.
Vinewood Souvenirs - Al Di Napoli - Mission Details:
Trevor chases and kidnaps Al Di Napoli.
Trevor meets Nigel in Del Perro and gives him the four souvenirs he retrieved. While the pair are talking, Mrs. Thornhill approaches to say she's seen Al Di Napoli on a walk. However, the pair aren't allowed near him as they have been deemed to have stalked him in the past.
Nigel and Mrs. Thornhill want to speak to him but somewhere private. As the group was talking, Al Di Napoli appears. Noticing Nigel and Mrs. Thornhill, he flees but the group decides to chase him down.
The chase continues on throughout Los Santos and ends when Al Di Napoli crashes his car. Trevor pulls the now unconscious Al Di Napoli from his car and puts him into the trunk of Nigel's and Mrs' Thornhills.
Gold Medal Objectives (100%)
The following are the Mission Objectives required to obtain the Gold Medal in the mission "Vinewood Souvenirs - Al Di Napoli":
Stalker: Stay close to Di Napoli
Accident and Emergency: Avoid hitting anyone inside the hospital

Drive carefully through the hospital.

Not a Scratch: Complete with minimal damage to NIgel's car
Note: You can complete each Gold Medal requirement in multiple playthroughs of the mission. You don't need to obtain them all in one single playthrough.
Vinewood Souvenirs - Al Di Napoli: Mission Objectives
Get in Nigel's

car

.
Chase

Al Di Napoli

.
Vinewood Souvenirs - Al Di Napoli: Mission Info
Mission Type

Strangers and Freaks

Mission Giver

Mrs. Thornhill, Nigel

Protagonist (Playable)

Trevor Philips

Location

Red Desert Avenue, Del Perro

State / Area

Los Santos

Required for 100%

No
Featuring

Mrs. ThornhillAl Di Napoli
Vinewood Souvenirs - Al Di Napoli: Videos
PS3 / Xbox 360: Gold Medal Video Walkthrough
PC: Gold Medal Video Walkthrough