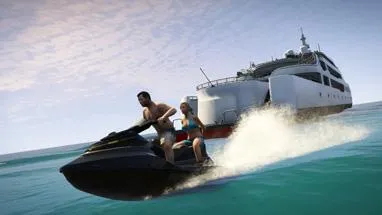 Daddy's Little Girl is a main story mission in Grand Theft Auto V, involving protagonist Michael De Santa.
It's the 8° GTA V mission in chronological order, and it takes place in Los Santos.
Michael and Jimmy pop out for some father/son bonding.
Gold Medal Objectives (100%)
The following are the Mission Objectives required to obtain the Gold Medal in the mission "Daddy's Little Girl":
Fastest Speed: Reach top speed on the Seashark.

Lean forward on the boat to reduce the bounce from waves.

Stabilizer: Don't fall off the bicycle.
Faster Than Fish: Swim to the boat within 01:00.

Swimming under the water will help move faster.
Note: You can complete each Gold Medal requirement in multiple playthroughs of the mission. You don't need to obtain them all in one single playthrough.
Daddy's Little Girl - Mission Details:
Michael is at his house, chilling with a bowl of chips, watching T.V. Jimmy is also home, playing video games loudly in his room, much to Michael's annoyance. He heads up to Jimmy's room, having a go at him about the noise. Jimmy tells him to go away and Michael reacts angrily by smashing his T.V with a chair.
The pair argue some more with Michael eventually apologising and stating he wishes the pair would spend more time together. Jimmy sarcastically suggest a bike ride and recommends they go to Vespucci Beach as he's got just the thing to show his dad.
The pair drive to Vespucci Beach and rent a couple of bicycles. They race to the end of Pleasure Pier. Once there, the pair chat but yet again, their chat turns to an argument. Jimmy mentions that Michael is only hard on him and not his sister Tracey, saying that she's always off trying to get on T.V. He conveniently points out that she's on the boat they could see from the pier.
Michael, now annoyed with Jimmy as he's realised that's the only reason they're out there, starts to strip and jumps into the water to swim to the boat. Once at the boat, Michael climbs aboard and confronts Tracey, who is dancing for a group of people. Michael takes Tracey with him and the pair escape from the boat on a Seashark.
The boat's owner and a few other people chase them on Seashark's. You can either choose to lose or kill the pursuers. Once rid of them, Michael takes Tracey back to the beach, where Jimmy now is. Tracey runs up to Jimmy annoyed but defends himself saying about what Michael did to his T.V. Michael offers to take the pair home but they opt for a taxi instead, leaving Michael, alone, on the beach
Daddy's Little Girl: Mission Objectives
Go to the

bike rental stand

.
Select a bike.
Race Jimmy to the

pier

.
Swim to the

yacht

.
Lose the

pursuers

.
Go to the

shore

.
Daddy's Little Girl: Mission Info
Mission Number

8

Mission Type

Mandatory Mission

Mission Giver

Michael De Santa

Protagonist (Playable)

Michael De Santa

Location

Michael's House, Los Santos

State / Area

Los Santos
Rewards

Triathlons; Tracey De Santa as a Director Mode character.

Unlocked Items

Triathlons
Daddy's Little Girl: Videos
PS3 / Xbox 360: Gold Medal Video Walkthrough
PS4 / Xbox One (First Person): Gold Medal Video Walkthrough
Daddy's Little Girl: Screenshots