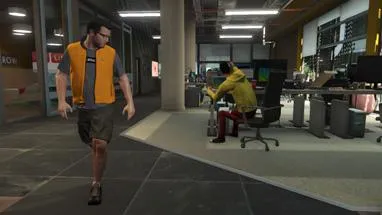 Friend Request is a main story mission in Grand Theft Auto V given by Lester Crest, involving protagonist Michael De Santa.
It's the 9° GTA V mission in chronological order, and it takes place in Los Santos.
Michael needs a job and turns to an old friend for help.
Gold Medal Objectives (100%)
The following are the Mission Objectives required to obtain the Gold Medal in the mission "Friend Request":
Time: Complete within 08:30.

Take the backdoor while leaving.

Popups Clear: Clear all pop-ups within 32 seconds.
Note: You can complete each Gold Medal requirement in multiple playthroughs of the mission. You don't need to obtain them all in one single playthrough.
Friend Request - Mission Details:
Michael goes to visit Lester at their house, a friend from his past. Michael needs his help in carrying out a heist to pay back the $2,500,000 he owes Martin Madrazo. However, in order to help Michael, Lester wants Michael to do something for him first.
Whilst talking, Lester gets an Eyefinder alert about Jay Norris and gets visibly annoyed. He throws a backpack at Michael and tells him to go buy something "youthful". Despite a lack of knowledge of what he has to do, Michael still heads to a Suburban store in Vinewood.
After purchasing a new outfit, Michael calls Lester and he runs him through what he has to do. Lester tells him to find a prototype of a new product Lifeinvader is working on in their office's and fit it with a device that is in the backpack Lester gave him.
Michael hangs around the door of the building until an employee called Rickie comes out for his cigarette break. He lets Michael in the building but mistakes him for an IT temp. He tasks Michael with removing a bunch of pop-ups that won't disappear from his computer.
Once done, Rickie innocently tells Michael that the prototype is in the demo room, without knowing what Michael has planned. Michael heads to the room, rigs the prototype and leaves the building. Michael calls Lester to say the job is done and heads home to watch the prototypes keynote.
During the keynote, Jay Norris shows off the new prototype, the Lifeinvader mobile device. Michael calls the device from his phone. When Jay picks it up and pulls it to his ear, the phone explodes, killing Jay instantly.
Friend Request: Mission Objectives
Go to the

Suburban store

in Vinewood.
Buy a suitable

outfit

.
Go to the

Lifeinvader offices

.
Go to the

rear entrance

.
Follow the

programmer

.
Close the popups to reveal the antivirus shortcut.
Run the antivirus software.
Rig the

prototype

.
Exit the building.
Watch the keynote at

Michael's house

.
Wait for

Jay Norris

to pull out the prototype phone and then give him a call.
Friend Request: Mission Info
Mission Number

9

Mission Type

Mandatory Mission

Mission Giver

Lester Crest

Protagonist (Playable)

Michael De Santa

Location

Lester's House, Murrieta Heights, Los Santos

State / Area

Los Santos
Rewards

Clothing stores; New items on Los Santos Customs

Unlocked Items

Rickie Lukens
Friend Request: Videos
PS3 / Xbox 360: Gold Medal Video Walkthrough
PS4 / Xbox One (First Person): Gold Medal Video Walkthrough
Friend Request: Screenshots
Coming soon.