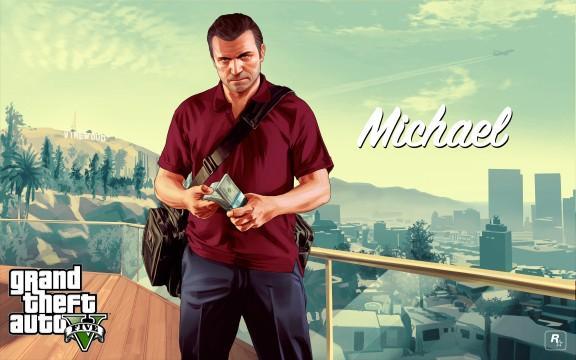 Michael De Santa is one of the three playable protagonists in Grand Theft Auto V.
Michael is a middle-aged, retired bank robber. After being apparently killed 9 years ago during a past operation with Trevor in North Yankton, Michael made a deal with the FIB and was sent off to live a new life in Los Santos under the disguise of "witness protection".
He now lives in a mansion in Rockford Hills with his dysfunctional family: disrespectful daughter Tracey, lazy son Jimmy, and spendthrift wife Amanda - who all had to change their surname from "Townley" to "De Santa".
After getting on the wrong side of a Mexican Cartel leader, Michael is forced to return to the criminal life, this time aided by his protege and up-and-coming criminal Franklin Clinton.
Michael is bored and frustrated by his domestic life, with his only outlets being whiskey, watching old Vinewood action movies, and trips to his therapist. He serves as the "brains" and leader of the gang, and is described as a "smooth operator".
Michael is an expert marksman - his Special Ability slows down time in a gunfight allowing him to pick off his targets with greater ease.
Michael De Santa: Character Info
Gender

Male

Born In Year

1965 (48 years old in 2013)

Nationality

United States

Location

Portola Drive, Rockford Hills, Los Santos

Occupation

Retired Bank Robber

Also Known As

Michael Townley; M; Mike; Mikey

Performer / Actor

Ned Luke

Family

Property / Safehouse

De Santa Residence (Michael's Mansion)Trevor's Trailer

Playability

Story Mode

Director Mode

Vehicle
"You forget a thousand things every day. Make sure this is one of them."

- Michael's favorite movie quote.
Michael De Santa: Appearances
Game Edition

GTA V Story Mode

Platforms

PC

PlayStation 4

Xbox One

PlayStation 3

Xbox 360
As Protagonist (Playable)

Michael De Santa Missions in Grand Theft Auto V:

Appearances in Story Missions:
Michael De Santa Screenshots
Michael De Santa Artworks
Michael De Santa Video