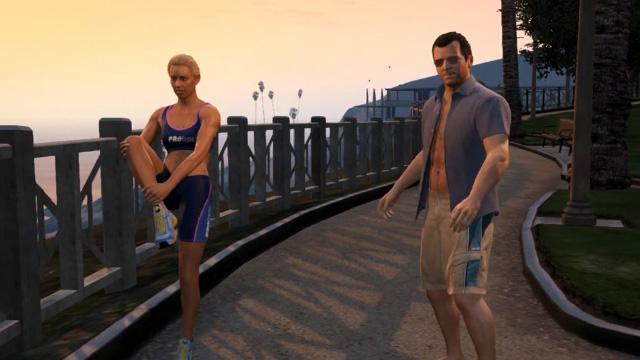 Exercising Demons - Michael is a Strangers & Freaks side mission in Grand Theft Auto V given by Mary-Ann Quinn, involving protagonist Michael De Santa.
The mission becomes available after completing the Complications story mission.
It's the first mission for Mary-Ann Quinn.
This is an optional mission, not required for 100% completion of the game.
Exercising Demons - Michael - Mission Details:
Michael gets insulted by Mary-Ann and challenged to a sprint race.
Michael meets Mary-Ann, who is stretching before going on a run. Mary-Ann is berating herself so Michael quips that exercise is just as fun to her as it is to his wife. She retaliates to Michael saying she won't sleep with him and that she's not stressed.
Michael double checks if she's ok but she takes insult to this and challenges Michael to a run. He agrees with Mary-Ann quipping ' don't have a coronary' before setting off.
The pair run through various checkpoints, with the Del Perro Beach as the end target. On the run, Mary-Ann continues to be angry, berating Michael whether he's ahead or not. Once at the finish line, Mary-Ann hurls more insults at Michael, before heading off on a bike.
Gold Medal Objectives (100%)
The following are the Mission Objectives required to obtain the Gold Medal in the mission "Exercising Demons - Michael":
Contender: Win the race without using any shortcuts

Michael needs to be fit (high stamina) in order to be able to complete this.
Note: You can complete each Gold Medal requirement in multiple playthroughs of the mission. You don't need to obtain them all in one single playthrough.
Exercising Demons - Michael: Mission Objectives
Exercising Demons - Michael: Mission Info
Mission Type

Strangers and Freaks

Mission Giver

Mary-Ann Quinn

Protagonist (Playable)

Michael De Santa

Location

Del Perro, near the Great Ocean Highway

State / Area

Los Santos

Available After Mission (Story Mode)

Required for 100%

No
Exercising Demons - Michael: Videos
PS3 / Xbox 360: Gold Medal Video Walkthrough
PC: Gold Medal Video Walkthrough