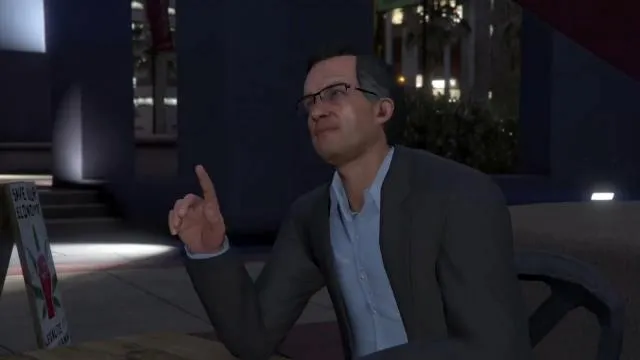 Grass Roots - Michael is a Strangers & Freaks side mission in Grand Theft Auto V given by Barry , involving protagonist Michael De Santa .
The mission becomes available after completing the Complications story mission.
It's the first mission for Barry .
This is an optional mission, not required for 100% completion of the game.
Grass Roots - Michael - Mission Details:
Michael agrees to try out Barry's marijuana and hallucinates Aliens.
Michael meets with Barry, an advocate for the legalisation of marijuana, in Legion Square. Barry starts talking about how the vote to legalise marijuana was rigged and offers Michael a joint. Michael initially refuses, saying he's not a drug guy, but Barry persuades him after explaining the benefits of it.
Once Michael takes a drag, Barry tells him he does get concerned about the 'monsters' but he's sure they're nothing too serious and that he doesn't let them get near.
Michael vision and hearing starts to haze and Aliens start to appear out of nowhere. He is suddenly holding a minigun to take out the aliens.
Don't let any of the aliens get too close to Michael as they're attempting to abduct him. If they're successful, he'll fly high in the air and get dropped to the ground, killing him and failing the mission.
Once the last of the aliens are deal with, Michael comes down from his 'high'. He asks Barry what just happened but Barry just shrugged it off saying they discussed many topics. Michael asks Barry to stay away from him and leaves.
Gold Medal Objectives (100%)
The following are the Mission Objectives required to obtain the Gold Medal in the mission "Grass Roots - Michael":
Unmarked: Complete with minimal damage to health and armor
Kill Chain: Kill 7 aliens in 00:10
Note: You can complete each Gold Medal requirement in multiple playthroughs of the mission. You don't need to obtain them all in one single playthrough.
Grass Roots - Michael: Mission Objectives
Grass Roots - Michael: Mission Info
Mission Giver

Barry

Mission Type

Strangers and Freaks

Protagonist (Playable)

Michael De Santa

Location

Legion Square, Downtown Los Santos

State / Area

Los Santos

Available After Mission (Story Mode)

Required for 100%

No
Grass Roots - Michael: Videos
PS3 / Xbox 360: Gold Medal Video Walkthrough
PC: Gold Medal Video Walkthrough