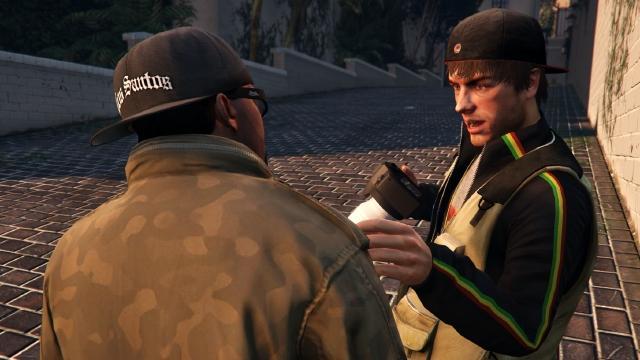 Paparazzo - The Sex Tape is a Strangers & Freaks side mission in Grand Theft Auto V given by Beverly Felton , involving protagonist Franklin Clinton .
It's the 2° mission for Beverly Felton , after the Paparazzo mission.
Being a Franklin mission, this Strangers & Freaks mission is required for 100% completion of the game.
Paparazzo - The Sex Tape - Mission Details:
Franklin records Poppy Mitchell having sex with co-star Justin and then flees security alongside Beverly.
Franklin approaches Beverly, who is scouting out near the Gentry Manor Hotel. He has heard that Poppy Mitchell is having sex with one of her co-stars and Beverly wants to catch it on camera.
Beverly leads Franklin to where the pair is and gives him the camera to record the action. Franklin starts recording but they notice him, forcing Beverly and Franklin to flee the scene.
Beverly and Franklin get into Beverly's car and notice Poppy chasing them. Beverly asks Franklin to record her while they navigate the city. Poppy eventually crashes her car at the Alta Construction Site, ending the chase. Beverly drops Franklin off just outside the construction site, ending the mission
Gold Medal Objectives (100%)
The following are the Mission Objectives required to obtain the Gold Medal in the mission "Paparazzo - The Sex Tape":
Quick Dip: Jump in the pool whilst following Beverly
Money Shot: Achieve full facial recognition during chase
Note: You can complete each Gold Medal requirement in multiple playthroughs of the mission. You don't need to obtain them all in one single playthrough.
Paparazzo - The Sex Tape: Mission Objectives
Paparazzo - The Sex Tape: Mission Info
Featuring

Futo FQ 2 Poppy Mitchell
Paparazzo - The Sex Tape: Videos
PS3 / Xbox 360: Gold Medal Video Walkthrough
PC: Gold Medal Video Walkthrough