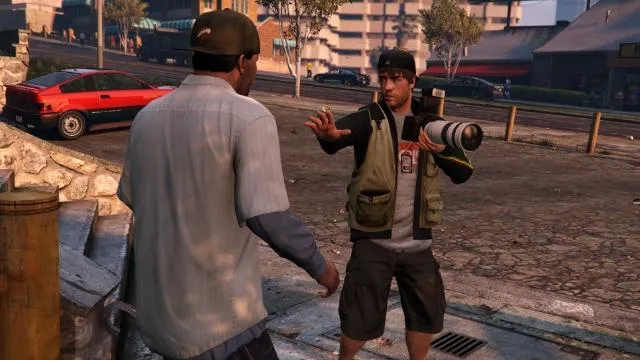 Paparazzo is a Strangers & Freaks side mission in Grand Theft Auto V given by Beverly Felton , involving protagonist Franklin Clinton .
The mission becomes available after completing the Complications story mission.
It's the first mission for Beverly Felton .
Being a Franklin mission, this Strangers & Freaks mission is required for 100% completion of the game.
Paparazzo - Mission Details:
Franklin helps Beverly take pictures of Miranda Cowan.
Franklin meets Beverly, a member of the paparazzi. He takes pictures of Franklin, mistaking him for Clay Jackson. Beverly soon realises his mistake and Franklin berates him for his job, telling Beverly to leave people alone. Beverly explains he does this line of work due to celebrities thinking they're gods over him.
Beverly is trying to get pictures of Miranda Cowen and manages to get Franklin to help him out. Miranda gets into a Stretch so Franklin gets on a motorcycle to chase her while Beverly takes photos from the back.
After following Miranda for a while, taking photos, a rival paparazzi joins the chase. Franklin drives alongside the rival to Beverly can knock them off their bike. Once the rival has been dealt with, Franklin drives Beverly to his next stakeout, ending the mission.
Gold Medal Objectives (100%)
The following are the Mission Objectives required to obtain the Gold Medal in the mission "Paparazzo":
Smack Down: Ensure Beverly takes out his rival on the 1st attempt

Drive side by side with the rival paparazzo to ensure Beverly knocks him out.

Picture Perfect: Help Beverly snap and inspect 3 photographs

Get close to the limo by using Franklin's special ability.
Note: You can complete each Gold Medal requirement in multiple playthroughs of the mission. You don't need to obtain them all in one single playthrough.
Paparazzo: Mission Objectives
Drive alongside

Miranda's car

.
Stop the

rival paparazzo

.
Take Beverly to his next

stakeout

.
Paparazzo: Mission Info
Unlocked Items

Wildlife Photography Challenge

Featuring

PCJ 600

Notes

This mission doesn't give a percentage increase and it's not listed on Social Club, but it's still required for 100% as it unlocks the subsequent mission.
Paparazzo: Videos
PS3 / Xbox 360: Gold Medal Video Walkthrough
PC: Gold Medal Video Walkthrough