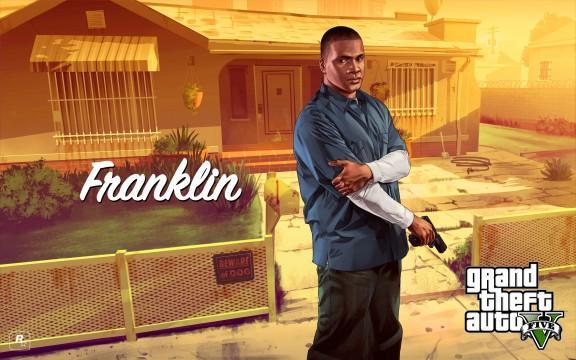 Franklin Clinton is one of the three playable protagonists in Grand Theft Auto V.
Franklin is a young gang member who dreams of becoming big-time in Los Santos, in a world where the glory days of street gangs has long passed.
He works as a repo man for a luxury car dealership, but his ambition makes him tired of the job. He soon crosses paths with Michael De Santa, who takes him under his wing.
Franklin is the youngest of the three protagonists and is capable of tackling challenging tasks that Michael and Trevor cannot, and has a level of physical prowess that both Michael and Trevor lack.
Franklin is a skilled driver with sharp reflexes - his Special Ability lets him slow down time while driving any road-based vehicle, allowing him to quickly navigate through traffic with ease and take corners at high speeds.
He also appears in GTA Online as a main character of 'The Contract' Update released in December 2021, which takes place 8 years after the events of Story Mode. At this point, he has been making moves on his own and he has become the manager of "F. Clinton and Partner", a new "celebrity solutions agency".
Franklin Clinton: Character Info
Gender

Male

Born In Year

1988 (25 years old in 2013)

Nationality

United States

Location

Forum Drive, Strawberry (formerly); 3671 Whispymound Drive (Vinewood Hills)

Occupation

Armed robbery; Drug Dealing (formerly); Vehicle repossession (formerly); F. Clinton and Partner (2021)

Also Known As

F; Frankie; Frank

Performer / Actor

Shawn Fonteno

Family

Property / Safehouse

Clinton Residence3671 Whispymound Drive (Franklin's House)

Playability

Story Mode

Director Mode

Vehicle
Franklin Clinton: Appearances
Game Edition

GTA OnlineGTA V Story Mode

Platforms

PC

PlayStation 4

Xbox One

PlayStation 3

Xbox 360
As Protagonist (Playable)

Franklin Clinton Missions in Grand Theft Auto V:

Appearances in Story Missions:
Franklin Clinton Screenshots
Franklin Clinton Artworks
Franklin Clinton Video