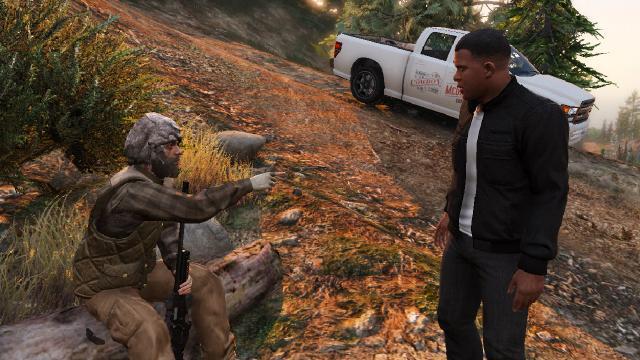 The Last One is a Strangers & Freaks side mission in Grand Theft Auto V given by Sasquatch Hunter , involving protagonist Franklin Clinton .
The mission is Unlocked after achieving 100% completion of the game.
The Last One - Mission Details:
Franklin hunts and captures the Last Sasquatch.
Franklin comes across a hunter out in Raton Canyon. The hunter sees Franklin and tells him he's out hunting a sasquatch. While they're talking, the hunter shoots something. They think it's the sasquatch but is just a person.
The hunter sends Franklin out to investigate the scat site. He reaches the area and finds the sasquatch but it runs away. Franklin carries on hunting the sasquatch and it finally comes to a stop on a hill overlooking the canyon.
The sasquatch pleads with Franklin to kill him but Franklin gets suspicious of the beast. Franklin pulls at its head to reveal it's just a man wearing a costume. The man then admits he likes role-playing as a fantastical beast and starts barking at Franklin.
Franklin can either kill the man or leave.
Gold Medal Objectives (100%)
The following are the Mission Objectives required to obtain the Gold Medal in the mission "The Last One":
Wounded: Shoot the Sasquatch three times before catching it
Hunter: Kill four animals whilst chasing the Sasquatch
Mr Green: Go to the scat site on foot
Note: You can complete each Gold Medal requirement in multiple playthroughs of the mission. You don't need to obtain them all in one single playthrough.
The Last One: Mission Objectives
Investigate the

scat site

.
Kill the

Last One

.
The Last One: Mission Info
The Last One: Videos
PS3 / Xbox 360: Gold Medal Video Walkthrough
PC: Gold Medal Video Walkthrough