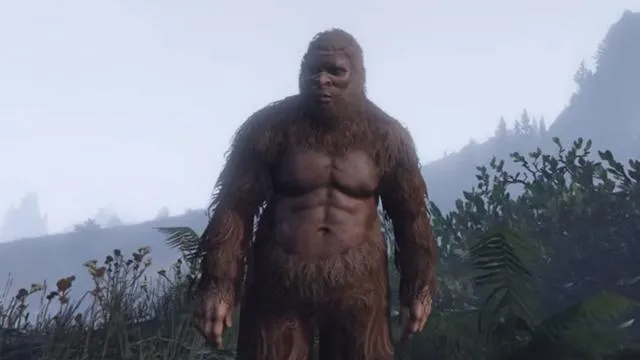 Bigfoot, also known as Sasquatch, is a large, hairy creature that inhabits the forests of San Andreas in Grand Theft Auto V.
Bigfoot is hunted down as part of the Strangers and Freaks Mission "The Last One", which is unlocked after attaining 100% Completion of the game.
How to play as Bigfoot / Sasquatch in GTA V:
After the Freemode Events Update, the Bigfoot search was expanded upon. If a player has finished the game at 100%, completed "The Last One", and found all 27 Peyote Plants, special Golden Peyote Plants will appear in different locations for each day of the week.
Consuming one of these Peyote Plants causes a hallucination effect that allows the player to take control of the Sasquatch, also unlocking the "Wild Animal" in Director Mode.
Finding and eating all 7 of the Golden Peyotes triggers a secret hunt that leads to a battle against The Beast. Winning the fight unlocks the Beast variation for use in Director Mode as well (by pressing L3+R3 when selecting the "Wild Animal").
See the Video Tutorials below for a walkthrough on how to unlock The Sasquatch / Bigfoot and The Beast.
Animal Information
Animal Species

Wild Animal

Animal Class

Land Animal

Size

Large

Playability

Director Mode

Peyote Plant (Golden)
Notes

Appears in different look variations (Bigfoot / Beast).
Bigfoot / Sasquatch: Appearances
Platforms

PC

PlayStation 4

Xbox One

PlayStation 3

Xbox 360
Appearances in Story Missions:
Bigfoot / Sasquatch Screenshots
Bigfoot / Sasquatch Videos