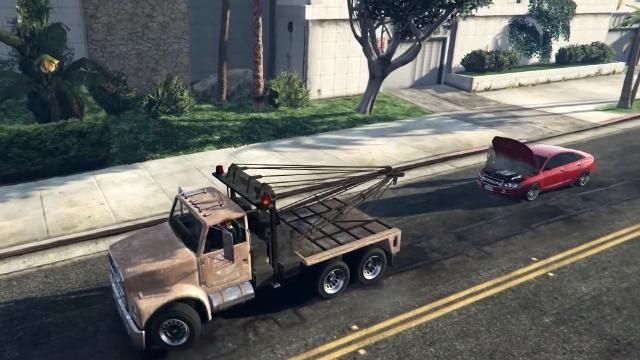 Still Pulling Favors is a Strangers & Freaks side mission in Grand Theft Auto V given by Tonya Wiggins, involving protagonist Franklin Clinton.
It's the 4° mission for Tonya Wiggins, after the Pulling Favors Again mission.
Being a Franklin mission, this Strangers & Freaks mission is required for 100% completion of the game.
Still Pulling Favors - Mission Details:
Franklin calls Tonya to find out she needs help... again.
Tonya text Franklin. She says she and JB are going clean but needs Franklin to do one more job for them. Franklin calls Tonya and tells her that this is the last time he is helping out.
He picks up the tow truck from the Davis Sheriff Impound. Dispatch radios and give him his next job. There's a broken-down car at Spanish Avenue.
Once on location, Franklin hooks the car and drives it to an auto repair shop so the owner can fix his car. Franklin calls Tonya to say the job is complete.
Gold Medal Objectives (100%)
The following are the Mission Objectives required to obtain the Gold Medal in the mission "Still Pulling Favors":
Time: Complete within 06:00

Use Franklin's special ability to drive faster.

Unhook Bonus: Keep the vehicle hooked until delivery

Drive carefully to avoid unhooking the car.
Note: You can complete each Gold Medal requirement in multiple playthroughs of the mission. You don't need to obtain them all in one single playthrough.
Still Pulling Favors: Mission Objectives
Go to the

tow truck

.
Go to the

broken down car

.
Allow the

car owner

to enter the tow truck.
Tow the car to the

auto repair shop

.
Still Pulling Favors: Mission Info
Mission Type

Strangers and Freaks

Mission Giver

Tonya Wiggins

Protagonist (Playable)

Franklin Clinton

Location

Cellphone Message, Call to begin

State / Area

Los Santos

Required for 100%

Yes
Featuring

Tow Truck (Small)LSPD Auto Impound
Still Pulling Favors: Videos
PS3 / Xbox 360: Gold Medal Video Walkthrough
PC: Gold Medal Video Walkthrough