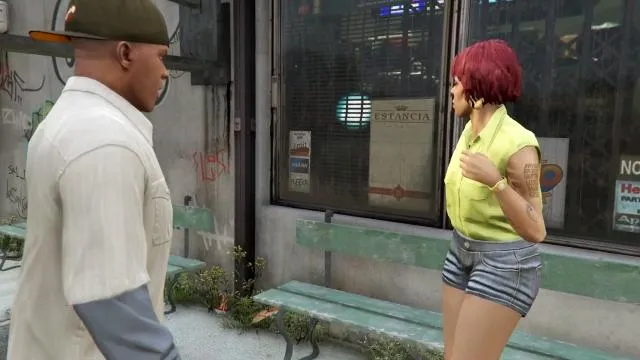 Pulling Another Favor is a Strangers & Freaks side mission in Grand Theft Auto V given by Tonya Wiggins , involving protagonist Franklin Clinton .
It's the 2° mission for Tonya Wiggins , after the Pulling Favors mission.
Being a Franklin mission, this Strangers & Freaks mission is required for 100% completion of the game.
Pulling Another Favor - Mission Details:
Franklin gets guilt-tripped into helping Tonya again.
JB still hasn't been going to work so Tonya needs Franklin's help again with another tow job. Tonya guilt-trips Franklin into helping by saying she and JB will lose everything.
Franklin and Tonya head to the Davis Sheriff Impound to pick up JB's tow truck. The next job is to pick up an SUV in a handicapped spot without a sticker, located at the Lucky Plucker in Little Seoul.
Franklin uses the tow hitch to pick up the car and drives it back to the impound. Be careful not to drive erratically back to the impound so the towed car doesn't crash into pedestrians or other vehicles.
Once at the impound, Franklin drives to the drop off bay and unhitches the car, completing the task.
Gold Medal Objectives (100%)
The following are the Mission Objectives required to obtain the Gold Medal in the mission "Pulling Another Favor":
Time: Complete within 05:30

Skip all cutscenes.
Use Franklin's special ability.

Unhook Bonus: Keep the vehicle hooked until delivery

Drive carefully to avoid unhooking the car.
Note: You can complete each Gold Medal requirement in multiple playthroughs of the mission. You don't need to obtain them all in one single playthrough.
Pulling Another Favor: Mission Objectives
Go to the

Tow Truck

.
Wait for

Tonya

.
Tow the car to the

impound

.
Pulling Another Favor: Mission Info
Pulling Another Favor: Videos
PS3 / Xbox 360: Gold Medal Video Walkthrough
PC: Gold Medal Video Walkthrough