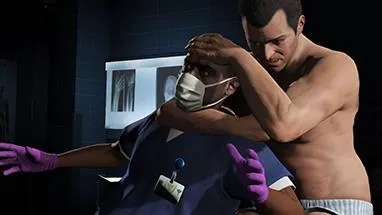 Dead Man Walking is a main story mission in Grand Theft Auto V given by Federal Investigation Bureau (FIB) , involving protagonist Michael De Santa .
It's the 22° GTA V mission in chronological order, and it takes place in Los Santos.
Agent Dave Norton puts Michael in a difficult situation.
Gold Medal Objectives (100%)
The following are the Mission Objectives required to obtain the Gold Medal in the mission "Dead Man Walking":
Accuracy: Finish with a shooting accuracy of at least 70%.
Headshots: Kill 14 enemies with a headshot.

Use Michael's ability to facilitate headshots.

Time: Complete within 09:30.

Skip the cutscenes.
Escape using the Felon.
Use the rear exit of the coroner's office to avoid the police.

Focused Killer: Kill 4 enemies using Michael's special ability.
Unmarked: Complete with minimal damage to health and armor.

Take cover as much as possible.
Note: You can complete each Gold Medal requirement in multiple playthroughs of the mission. You don't need to obtain them all in one single playthrough.
Dead Man Walking - Mission Details:
Michael meets Dave at Gallio Observatory. Dave knows it was Michael that hit the jewellery store. Michael admits it was him and also tells Dave that Trevor is back. Instead of arresting Michael for his heist, he asks for a favour. He wants information on a guy named Ferdinand Kerimov. The IAA has declared him dead but the FIB doesn't believe it and think he's being debriefed somewhere.
Ferdinand has some information on Dave that could get him into trouble. Dave wants Michael to head to the morgue and identify the body. Michael asks how he's going to get into the morgue, as it's heavy on security, so Dave knocks him out and states "You've played dead before".
Michael wakes up in the morgue while two examiners are about to prepare an autopsy on his body. He knocks out one of them but the other gets away. A guard appears but Michael sneaks behind him and takes him down. Michael takes a look at the other bodies in the morgue. He finds the one with Ferdinand's tag on it but the body is clearly not his, instead, it's one of a woman. Michael calls Dave to let him know his findings.
While on the phone with Dave, an alarm starts ringing, cueing Michael to start escaping. Dave tells him he'll have to go up to get out as the lower floors are locked down. Michael makes his way up the building, taking out guards on the way. Once on the upper floor, Michael's clothes and weapons will be there for him to retrieve. After claiming his items, he shoots out a window and jumps into a dumpster, leaving the building.
There's now a three-star heat on Michael meaning he now needs to lose the cops. Once he's evaded the cops, he calls Franklin to let him know they need to talk. They plan to meet at the oil derricks in El Burro Heights. Once there, Michael tells Franklin to leave town as the FIB will be on his case soon. As Michael helped him out, he decides to stay in Los Santos and help Michael back.
Dead Man Walking: Mission Objectives
Search the morgue for the

body

.
Escape from the

building

.
Escape through the

window

.
Lose the Cops.
Go to the

oil derricks

.
Dead Man Walking: Mission Info
Dead Man Walking: Videos
PS3 / Xbox 360: Gold Medal Video Walkthrough
PS4 / Xbox One (First Person): Gold Medal Video Walkthrough
Dead Man Walking: Screenshots
Coming soon.