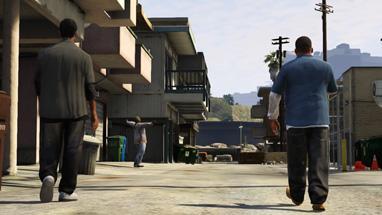 Repossession is a main story mission in Grand Theft Auto V given by Simeon Yetarian , involving protagonist Franklin Clinton .
It's the 3° GTA V mission in chronological order, and it takes place in Los Santos.
Franklin and Lamar go to a shady part of Vespucci Beach to repo a bike for Simeon.
Gold Medal Objectives (100%)
The following are the Mission Objectives required to obtain the Gold Medal in the mission "Repossession":
Time: Complete within 06:30.

Shoot the biker when he shows up behind the fence. This will help avoid the car chase.

Trail Blazer: Shoot the gasoline trail.

The Penumbra fleeing will drop gasoline, which you can shoot to blow up the car.

Headshots: Kill 6 enemies with a headshot.
Accuracy: Finish with a shooting accuracy of at least 70%.
Note: You can complete each Gold Medal requirement in multiple playthroughs of the mission. You don't need to obtain them all in one single playthrough.
Repossession - Mission Details:
Simeon calls Franklin, telling him to come to his dealership as he has another job for him. On arrival, a cutscene starts. Simeon gifts Franklin with 'Employee of the Month'. He isn't happy with this and explains to Simeon that he's tired of the work and needs to move on. Lamar shows up, annoyed that he didn't win 'Employee of the Month'.
Eventually, Simeon gives the pair their next job, to steal a bike from Esteban Jimenez in Vespucci Beach, as they haven't been making payments. The duo heads to Magellan Avenue and head down an alley. Once at the bottom, they search a few garages but have no luck. Vagos notice them snooping around and approach Franklin and Lamar at one of the garages.
Lamar hastily brandishes his gun and shoots one of the Vagos, starting a gunfight. The pair now have to fight their way out of the alley. Once they're at the end of the alley, Jimenez appears on the bike they needed to repossess. The duo pursues him, eventually catching up to him and killing him. Franklin grabs the bike and splits up from Lamar.
They both meet up again at a car wash in Strawberry. Franklin is annoyed about what went down stating "We can't repo the assets of a dead man". Lamar then decides to take the bike himself and advises Franklin to tell Simeon they couldn't recover it.
Repossession: Mission Objectives
Go to

Vespucci Beach

.
Follow

Lamar

.
Search the

garages

.
Pick up a

weapon

.
Take out the

Vagos

.
Get the

bike

.
Get on the

bike

.
Go to the

car wash

.
Repossession: Mission Info
Rewards

Letter Scraps; Monkey Mosaics; Lamar available for friend activities; 24/7; Simeon Yetarian as a Director Mode Character

Unlocked Items

Bagger Broken Bottle Hammer Pistol SNS Pistol Chop Pulling Favors

Featuring

Bagger Bullet Pistol Lamar Davis The Families Vagos
Repossession: Videos
PS3 / Xbox 360: Gold Medal Video Walkthrough
PS4 / Xbox One (First Person): Gold Medal Video Walkthrough
Repossession: Screenshots
Coming soon.