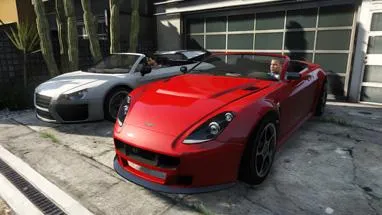 Franklin and Lamar is a main story mission in Grand Theft Auto V given by Simeon Yetarian, involving protagonist Franklin Clinton.
It's the 2° GTA V mission in chronological order, and it takes place in Los Santos.
Franklin and Lamar repossess two convertibles for an Armenian car dealer, Simeon.
Gold Medal Objectives (100%)
The following are the Mission Objectives required to obtain the Gold Medal in the mission "Franklin and Lamar":
Not a Scratch: Deliver the repossessed car with minimal damage.

Use Franklin's special ability to avoid collisions.

Focused Driver: Use Franklin's special ability for 7 seconds
Winner: Win the race against Lamar.

Drive through the left tunnel before entering the Union Depository and use Franklin's special ability to pass Lamar.

We Come in Peace:

Avoid hitting any aliens in the movie studio.

Use Franklin's special ability to dodge the actors.
Note: You can complete each Gold Medal requirement in multiple playthroughs of the mission. You don't need to obtain them all in one single playthrough.
Franklin and Lamar - Mission Details:
Michael is in therapy with his therapist Isiah Friedlander. Currently going through a mid-life crisis, Michael is unhappy with his life currently. Unhappy with Friedlander, Michael lashes out at him and promptly leaves their session. This cues the start of game credits, showing a video montage of people and landmarks in Los Santos.
Michael sits on a bench in Vespucci Beach and is approached by Franklin and Lamar, asking for directions to the Bertolt Beach House. From this point onwards, the game switches to Franklin's point of view. Franklin and Lamar need to get to the Bertolt Beach House to repossess some cars. Franklin has some anxiety around the job as he doesn't feel like it's legitimate work.
When the duo arrives at the house, there are two cars to choose from. Once Franklin has taken his pick, Lamar enters the second car and leads Franklin on a chase around the city of Los Santos. The pair eventually arrive at the Union Depository but notice they've grabbed the attention of the police. They go their separate ways and lose the police. Once the heat is off, Franklin journies to the Premium Deluxe Motorsports dealership, owned by Simeon Yetarian, the man who hired them for the repossessions.
When both Franklin and Lamar arrive, Simeon is berating Jimmy De Santa in an attempt to make him buy a car. The duo leaves the dealership after their work is complete and head back to Franklin's house at Forum Drive, Strawberry.
Franklin and Lamar: Mission Objectives
Choose one of the

cars

.
Follow

Lamar

.
Park

next to Lamar

.
Lose the Cops.
Take the car back to the

dealership

.
Get in your

car

.
Go to

Franklin's house

.
Franklin and Lamar: Mission Info
Mission Number

2

Mission Type

Mandatory Mission

Mission Giver

Simeon Yetarian

Protagonist (Playable)

Franklin Clinton

Location

Vespucci Beach; Del Perro; Los Santos

State / Area

Los Santos
Rewards

Welcome to Los Santos achievement/Trophy; $250; Ability to play as Franklin; Barber Shops; Stunt Plane Time Trials; Ammu-Nation; Ammu-Nation Shooting Ranges; Los Santos Customs; Car Washes; Beeker's Garage; Movie Theatres; Strip Club; Cable Cars; Fairground Rides; Stunt Jumps; Soapboxers; Prostitutes; Taxi Fares; Stock Markets

Unlocked Items

Buffalo SAssault RifleBaseball BatCrowbarFirework LauncherGolf ClubGrenadeKnifeMicro SMGSMGClinton ResidenceShooting Range ChallengesStunt Plane Time Trials
Franklin and Lamar: Videos
PS3 / Xbox 360: Gold Medal Video Walkthrough
PS4 / Xbox One (First Person): Gold Medal Video Walkthrough
Franklin and Lamar: Screenshots
Artworks