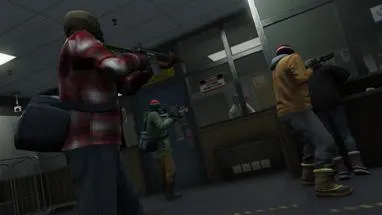 Prologue is a main story mission in Grand Theft Auto V, involving protagonist Michael De Santa and Trevor Philips.
It's the 1° GTA V mission in chronological order, and it takes place in North Yankton.
North Yankton, 9 years ago.
Gold Medal Objectives (100%)
There are no Gold Medal requirements for this mission.
Prologue - Mission Details:
Set in 2004, 9 years before the events of Grand Theft Auto V.
Michael, Trevor and Brad are in the process of robbing a Bobcat security storage facility in Ludendorff, North Yankton. Trevor blows open the vault doors and he and Michael steal approximately $180,000. As they start to escape, a guard catches Michael and holds him at gunpoint. The guard removes Michaels's mask, cueing Michael to say "You forget a thousand things every day, make sure this is one of them". Trevor ultimately decides to shoot the guard in the head and the trio continues to escape.
They attempt to leave the building but it's now swarming with local law enforcement. The three have to fight their way out of the building and eventually make it to their getaway car. Law enforcement catches up to them again and shoots their getaway driver. Michael takes over control and the group continues on, avoiding roadblocks, causing them detours.
With a train incoming, the trio race over the train tracks in hope of losing their pursuers but the back end of the car is hit by the train, spinning them into a tree. Luckily, they all survive and decided to make it out on foot to their final destination, the getaway chopper. Once there, they release the chopper is nowhere to be seen. FIB agent Dave Norton sees the three and shoots Michael and Brad from behind a building. With police closing in again, Trevor is left to take them on by himself and eventually escapes after Michael pleas with him to go on without him and Brad.
At the end of the mission, a funeral is held for Michael with Dave attending, implying that he died when he was shot. However, the camera pans out and Michael is watching on the events with a cigarette in hand
Prologue: Mission Objectives
Go to the

guard

.
Aim at the

hostages

to make them move.
Use the phone to trigger the explosive charge.
Collect the

cash

.
Take out the

guard

.
Get to cover.
Open the

shutter door

.
Escape the

Cops

.
Get to the

car

.
Wait for the

crew

.
Drive to the

helicopter pick up point

.
Hold off the

Cops

.
Prologue: Mission Info
Mission Number

1

Mission Type

Mandatory Mission

Protagonist (Playable)

Michael De SantaTrevor Philips

Location

Ludendorff, North Yankton

State / Area

North Yankton
Rewards

Open World; GTA Online
Prologue: Videos
PS3 / Xbox 360: Gold Medal Video Walkthrough
PS4 / Xbox One (First Person): Gold Medal Video Walkthrough
Prologue: Screenshots
Coming soon.