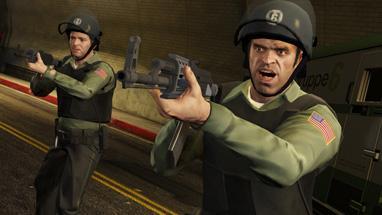 Mission Information
Mission Number

77

Mission Type

Branching ChoiceHeist

Mission Giver

Lester Crest

Description

Michael and Trevor con their way into the Union Depository and walk out with the gold reserves. Franklin organises the getaway.

Protagonist (Playable)

Michael De SantaFranklin ClintonTrevor Philips

Location

Vanilla Unicorn; Strawberry; Michael's House

State / Area

Los Santos
Heist Setups

Notes

This is a branching mission that is played when choosing The Big Score (Subtle Approach)

Rewards

The Big One! Achievement

Unlocked Items

Advanced RifleBullpup Rifle
Gold Medal Objectives (100%)
The following are the Mission Objectives required to obtain the Gold Medal:
Headshots: Kill 20 enemies with a headshot.
Signal Man: Perform less than 10 traffic light changes.
Accuracy: Finish with a shooting accuracy of at least 60%.
Note: You can complete each Gold Medal requirement in multiple playthroughs of the mission. You don't need to obtain them all in one single playthrough.
Mission Objectives
Get into the

car

.
Get to the

tunnel entrance

before 8:00am.
Deploy the stinger.
Move away from the stinger and wait for the

vans

to arrive.
Go to the

Union Depository

.
Follow the

manager

.
Enter the

Securicar

.
Follow

Trevor

.
Keep the roads clear for the vans.
Defend the crew from

Merryweather

.
Follow the rest of the

crew

.
Go to

Michael's house

.
&nbsp:
Heist Maximum Revenue
It is important to make the right choices for this heist as it gives the biggest payout of any mission.
The Obvious approach will get the highest revenue as in the Subtle approach the player will have to pay a $300,000 bribe, a minimum of $30,000 to upgrade the Bravados and requires a bigger and more expensive crew.
The best options are Taliana Martinez (5%) and Karim Denz (8%) as drivers. If Karim is inexperienced, he would need to drive the train or he'll crash the helicopter and lose half the score. Hire the cheapest gunmen, Daryl Johns (6%) and either Norm Richards or Hugh Welsh (7%). Use whoever is the most experienced as Gunman 2.
Gross take: $201,600,000
Lester's cut (12%): $24,192,000
Crew cut (26%): $52,416,000
Michael's cut: $41,664,000
Franklin's cut: $41,664,000
Trevor's cut: $41,664,000
Videos
PS3 / Xbox 360: Gold Medal Video Walkthrough
PS4 / Xbox One (First Person): Gold Medal Video Walkthrough
Screenshots