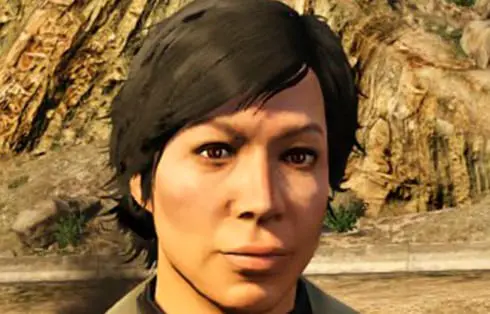 Taliana Martinez is a character that appears as a Heist Crew Member in Grand Theft Auto V, as well as a character in GTA Online.
Taliana Martinez is a character that appears in the random event "Crash Rescue". After meeting her, she becomes one of the getaway drivers available for recruitment as a Heist Crew Member in Grand Theft Auto: V.
She can be found crashed on the side of the road after a failed robbery, in the Great Ocean Highway around Mount Chiliad and Braddock Pass after the Jewel Store Job. The player needs to drive her quickly to Sandy Shores before she passes away from her injuries. If saved, she will become available as a Heist Crew Member for future heists.
She's a getaway driver who used to work with a small crew in the country until they betrayed her during a robbery of a pawn shop that did not go as planned. She has excellent driving skills and composure, and a very strong personality, not accepting insults or being degraded by the other heist crew members. As payback for being saved from her crash, she will offer her services at a discount, only taking a heist cut of 5%.
Taliana reappears in Grand Theft Auto: Online during the events of The Diamond Casino Heist, being available for hire as a getaway driver, classified as "good", taking a heist cut of 7%.
Taliana Martinez: Character Info
Role

Heist Crew Member

Gender

Female

Nationality

MexicoUnited States

Location

Los Santos

Occupation

Getaway driver

Performer / Actor

Carolina Ravassa

How To Unlock

Met as part of the Random Event: Crash Rescue

Affiliation

Lester Crest

Playability

Director Mode

Vehicle
Taliana Martinez: Appearances
Game Edition

GTA OnlineGTA V Story Mode

Platforms

PC

PlayStation 5

Xbox Series X|S

PlayStation 4

Xbox One

PlayStation 3

Xbox 360
Appearances in Story Missions:
Taliana Martinez Screenshots
Coming soon.