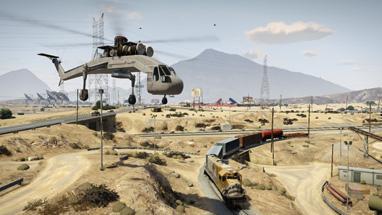 Sidetracked is a main story mission in Grand Theft Auto V given by Lester Crest, involving protagonist Michael De Santa, Franklin Clinton and Trevor Philips.
It's the 67° GTA V mission in chronological order, and it takes place in Los Santos.
This is a Heist Setup mission that is played depending on the approach selected for The Big Score (Obvious Approach).
Prepare for the Big Score.
Gold Medal Objectives (100%)
The following are the Mission Objectives required to obtain the Gold Medal in the mission "Sidetracked":
Time: Finish the mission in 04:30.

Use a sniper rifle to remove the guards.
Fly low in the chopper to move faster.

Undetected: Don't get caught while taking over the train tracks.

Use a sniper rifle or a suppressed weapon to get rid of the guards.
Note: You can complete each Gold Medal requirement in multiple playthroughs of the mission. You don't need to obtain them all in one single playthrough.
Sidetracked - Mission Details:
This mission can be completed by either Michael, Franklin or Trevor.
Lester will text the player telling them that he has a crane ready to steal the train. The player heads to the railway station in the Grand Senora Desert. There are two railway workers which the player knocks out. Then, the player will head to the cabin and switch the train tracks so the next train is diverted.
Play then is switched to Trevor, who is flying a chopper with a magnet. He picks up the train's engine with the magnet and takes it back to his airstrip. He then goes back, picks up one of the flatbed cars and delivers it to his airstrip.
Sidetracked: Mission Objectives
Incapacitate the

railway workers

.
Wait for a train to stop in the sidings.
Pick up the

freight engine

.
Take the freight engine to

Trevor's airstrip

.
Pick up a

flatbed carriage

.
Take the flatbed to

Trevor's airstrip

.
Sidetracked: Mission Info
Mission Number

67

Mission Type

Branching Choice

Mission Giver

Lester Crest

Protagonist (Playable)

Michael De SantaFranklin ClintonTrevor Philips

Location

Davis Quartz; Grand Senora Desert

State / Area

Los Santos
Heist Finale

Notes

This is a branching mission that is played when choosing The Big Score (Obvious Approach)
Sidetracked: Videos
PS3 / Xbox 360: Gold Medal Video Walkthrough
PS4 / Xbox One (First Person): Gold Medal Video Walkthrough
Sidetracked: Screenshots
Coming soon.