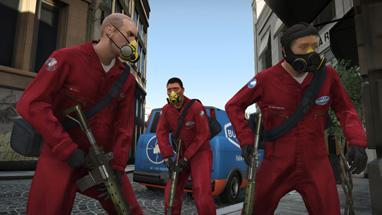 In need of money to pay Madrazo, Michael takes down a Rockford Hills Jewel Store with Franklin and a crew.
Mission Information
Mission Number

17

Mission Type

Branching ChoiceHeist

Mission Giver

Lester Crest

Protagonist (Playable)

Michael De SantaFranklin Clinton

Location

Darnell Bros., La Mesa

State / Area

Los Santos
Heist Setups

Notes

This is a branching mission that is played when choosing The Jewel Store Job (Smart Approach)

Rewards

Maximum gross take: $4,946,153; Diamond Hard achievement/trophy; Lester as a contact for Franklin

Unlocked Items

Carbine RifleSpecial CarbineTear Gas
Gold Medal Objectives (100%)
The following are the Mission Objectives required to obtain the Gold Medal:.
Quick Grab: Steal the jewelry within 50 seconds.
Protégé Protected: Protect Franklin during the LS River chase.
Clean Sweep: Steal the jewelry from all 20 glass cabinets.
Note: You can complete each Gold Medal requirement in multiple playthroughs of the mission. You don't need to obtain them all in one single playthrough..
Mission Objectives
Get in the

car

.
Go to the

jewelry store

.
Go to the

roof

.
Throw the BZ gas into the

air vent

.
Steal the

jewelry

.
Follow your crew into the sewers.
Take out the

police cars

and protect your crew.
Rendezvous with your crew.
Go to the

lockup

.
.
Heist Maximum Revenue
For the largest possible take, pick the Smart approach and choose Karim Denz as the driver, Packie McReary as the gunman and Rickie Lukens as the hacker.
Maximum gross take: $4,946,153
Martin Madrazo's payoff: -$2,500,000
Maximum net take: $2,446,153
Lester's cut (14%): -$342,462
Crew cut (24%): -$587,077
Franklin's cut (12%): $293,593
Michael's cut (50%): $1,223,073
.
Videos
PS3 / Xbox 360: Gold Medal Video Walkthrough
PS4 / Xbox One (First Person): Gold Medal Video Walkthrough
Screenshots
Artworks