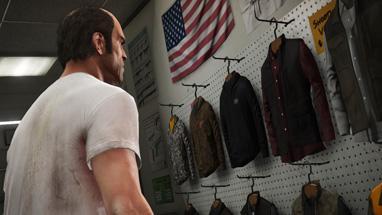 Boiler Suits is a main story mission in Grand Theft Auto V given by Federal Investigation Bureau (FIB), involving protagonist Michael De Santa, Franklin Clinton and Trevor Philips.
It's the 32° GTA V mission in chronological order, and it takes place in Los Santos.
Prep for an FIB operation.
Gold Medal Objectives (100%)
The following are the Mission Objectives required to obtain the Gold Medal in the mission "Boiler Suits":
Quick Shopper: Purchase all outfit within 30 seconds.
United Colors: Purchase a different color for each character.
Note: You can complete each Gold Medal requirement in multiple playthroughs of the mission. You don't need to obtain them all in one single playthrough.
Boiler Suits - Mission Details:
This mission can be completed using either Michael, Franklin or Trevor.
The group all meet at the oil barracks in El Burro Heights and are joined by Haines, Sanchez and Dave. The FIB have another task for the trio. The IAA has secured some funds that the FIB need to use in their fight against crime so they can bribe corrupt officials.
The IAA is getting the funds from selling drugs and the FIB believe they'll start a war on the streets. Michael, Franklin and Trevor are tasked with retrieving the funds for the FIB.
The trio is left to their own devices on they get the task done. Michael comes up with a plan called "Blitz Play". A trash truck to block, a tow truck to sack them plus some disguises.
The first task is obtaining the boiler suits for the disguise. The boiler suits are located at the Ammu-nation in Strawberry. Once they are purchased, the mission is over.
Boiler Suits: Mission Objectives
Boiler Suits: Mission Info
Mission Number

32

Mission Type

Mandatory Mission

Mission Giver

Federal Investigation Bureau (FIB)

Protagonist (Playable)

Michael De SantaFranklin ClintonTrevor Philips

Location

Ammu-Nation, Strawberry

State / Area

Los Santos
Boiler Suits: Videos
PS3 / Xbox 360: Gold Medal Video Walkthrough
PS4 / Xbox One (First Person): Gold Medal Video Walkthrough
Boiler Suits: Screenshots
Coming soon.