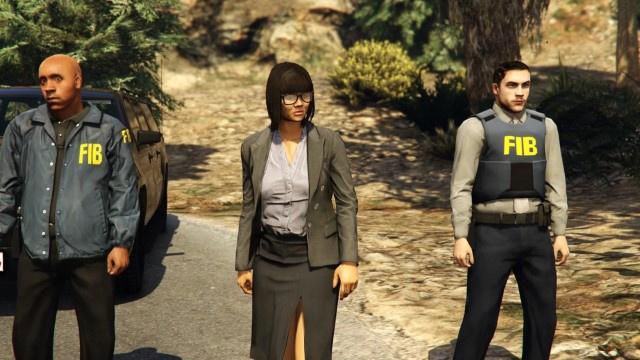 The Federal Investigation Bureau (FIB) is a government organization featured in Grand Theft Auto V and GTA Online.
The FIB is based on the real-life Federal Bureau of Investigation and is a central organization in the storyline of GTA V
The FIB will not pursue the player during police chases, but are prominent in missions. They are a main antagonistic faction in the game, along with Merryweather Security.
There appear to be different divisions in the FIB, namely:
The security division - agents wear tuxedos and have no specialized gear.
The FIB agents wearing blue jackets, using basic firearms.
The tactical division, using the same model as NOOSE officers, but with FIB decals. They are based on the FBI SWAT and are dispatched in extreme situations.
Federal Investigation Bureau (FIB): GTA V Info
Group Class

Law Enforcement Agency

Faction Type

Government Agency

Nationality

United States

Also Known As

Federal Investigation Bureau; Feds; Bureau

Location

FIB Headquarters, Pillbox Hill (Los Santos)

Gang Colors

Black

Occupation

National Security

Affiliation

Franklin ClintonMichael De SantaTrevor Philips

Vehicles

AnnihilatorBuzzardBuzzard Attack ChopperFIB (Buffalo)FIB (SUV)FroggerFugitivePolice MaverickPolice RiotUnmarked Cruiser

Weapons

AP PistolAssault RifleAssault ShotgunCombat MGCombat PistolPistolPump ShotgunSMGSniper RifleTear Gas

Based on (Real Life)

FBI
Federal Investigation Bureau (FIB): GTA V Appearances