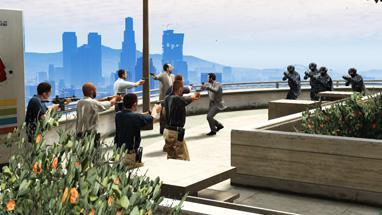 The Wrap Up is a main story mission in Grand Theft Auto V given by Federal Investigation Bureau (FIB), involving protagonist Michael De Santa and Trevor Philips.
It's the 59° GTA V mission in chronological order, and it takes place in Los Santos.
Michael has a meeting with the FIB.
Gold Medal Objectives (100%)
The following are the Mission Objectives required to obtain the Gold Medal in the mission "The Wrap Up":
Time: Complete within 07:00.
Headshots: Kill 18 enemies with a headshot.

Use Michael's special ability for better accuracy.

Buzz Off!: Shoot down the pursuing helicopter.

Shoot the helicopter down with Trevor's special ability.
Note: You can complete each Gold Medal requirement in multiple playthroughs of the mission. You don't need to obtain them all in one single playthrough.
The Wrap Up - Mission Details:
Michael meets Dave at one of the lookout points at the Kortz Center. Michael asks dave to "cut him loose" from the FIB's grasp but Dave won't, saying they've run into a problem. Before he can explain himself, Haines shows up with Sanchez. Haines wants both Michael and Dave arrest for their involvement in the FIB raid. Michael calls his bluff and knows it's because Haines doesn't want his dodgy dealings to get out and the best way to keep Michael quiet is to arrest him.
Haines pulls out his gun on Michael, so does Sanchez. Michael pulls his out on Haines with Dave pointing his at Sanchez, causing a four-way standoff. Dave starts talking everyone down and Haines admits he thinks the FIB know he's behind everything. Before they can all lower their guns, a group of IAA agents and a group of rival FIB agents show up.
Haines demands to know who sent the FIB team, with Sanchez revealing his betrayal. Merryweather shows up in a Buzzard and asks everyone to stand down. Haines is shot in the leg by a FIB agent, the same on that he shot in the raid on the Humane Labs. Haines then shoots Sanchez in the head, killing him.
This leads to a gunfight. Haines, albeit with an injured leg, is able to escape. Michael and Dave now must fight their way out of the Kortz Center. The pair get separated, leaving each one to fend the waves of FIB and IAA agents for themselves.
Play then changes to Trevor, who has been watching on from another point of the museum. He uses a sniper rifle to kill the pilot of an attacking Buzzard. Michael notices Trevor and Trevor shouts "If anyone's gonna kill you old friend, it's gonna be me".
Trevor helps Michael and Dave by taking out agents and Buzzards from a vantage point. Play can switch between Michael and Trevor now in their fight out. Once most of the heat dies down, play switches to Michael, to fend off anyone left. Trevor leaves the area and Michael thanks Trevor for his help.
Michael and Dave get in separate cars and escape the Kortz Center. Trevor radios Michael, asking him to meet him behind the pawn shop in Morningwood. As Michael escapes, he's tailed by a Merryweather helicopter. Either take it down or evade it. He carries on and heads to the meeting spot with Trevor.
Once there, Michael and Trevor argue but despite not trusting Michael, Trevor still wants to go ahead and do one last big score on the Union Depository. Michael calls Lester and tells him of their plans. He says he'll call them both when it's time to go.
The Wrap Up: Mission Objectives
Meet with

Dave

.
Escape the Kortz Center via the

balcony

.
Shoot the

pilot

.
Get downstairs to the

courtyard

.
Defend

Dave

.
Go to the

parking lot

.
Escape to

Morningwood

.
Lose the

enemy helicopter

.
Proceed to

Morningwood

.
The Wrap Up: Mission Info
Mission Number

59

Mission Type

Mandatory Mission

Mission Giver

Federal Investigation Bureau (FIB)

Protagonist (Playable)

Michael De SantaTrevor Philips

Location

Kortz Center, Pacific Bluffs

State / Area

Los Santos
The Wrap Up: Videos
PS3 / Xbox 360: Gold Medal Video Walkthrough
PS4 / Xbox One (First Person): Gold Medal Video Walkthrough
The Wrap Up: Screenshots
Coming soon.