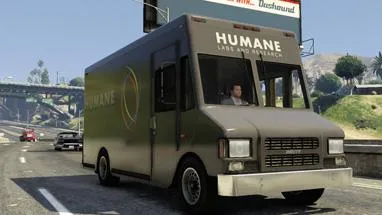 BZ Gas Grenades is a main story mission in Grand Theft Auto V given by Lester Crest, involving protagonist Michael De Santa.
It's the 14° GTA V mission in chronological order, and it takes place in Los Santos.
This is a Heist Setup mission that is played depending on the approach selected for The Jewel Store Job (Smart Approach).
Prepare for the Jewel Heist.
Gold Medal Objectives (100%)
The following are the Mission Objectives required to obtain the Gold Medal in the mission "BZ Gas Grenades":
Loose Cargo: Shoot open the back doors to release the cargo.
Note: You can complete each Gold Medal requirement in multiple playthroughs of the mission. You don't need to obtain them all in one single playthrough.
BZ Gas Grenades - Mission Details:
Michael will call Lester to say he's retrieved the Bugstar van. Upon doing this, Lester will also tell Michael that he's got a line on the knockout gas, that two shipments a day come through the city, taking it to the airport.
Michael decides to intercept one of the deliveries. Once at the van, Michael can either steal the Humane van or just its cargo. No matter which way Michael completes the task, police will become aware of his activities meaning he'll obtain a wanted level.
Once Michael loses the cops, he delivers either the van or the cargo to Darnell Bros and calls Lester to say the task has been completed.
BZ Gas Grenades: Mission Objectives
Steal the

Humane van

or its cargo.
Lose the Cops.
Deliver the BZ grenades to the

garment factory

.
BZ Gas Grenades: Mission Info
Mission Number

14

Mission Type

Branching Choice

Mission Giver

Lester Crest

Protagonist (Playable)

Michael De Santa

Location

Darnell Bros., La Mesa

State / Area

Los Santos
BZ Gas Grenades: Videos
PS3 / Xbox 360: Gold Medal Video Walkthrough
PS4 / Xbox One (First Person): Gold Medal Video Walkthrough
BZ Gas Grenades: Screenshots
Coming soon.