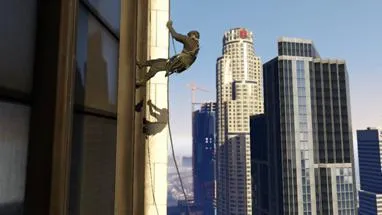 Three's Company is a main story mission in Grand Theft Auto V given by Federal Investigation Bureau (FIB), involving protagonist Michael De Santa, Franklin Clinton and Trevor Philips.
It's the 23° GTA V mission in chronological order, and it takes place in Los Santos.
Franklin and Trevor get roped into helping the FIB.
Gold Medal Objectives (100%)
The following are the Mission Objectives required to obtain the Gold Medal in the mission "Three's Company":
Time: Complete within 07:30

Skip all cutscenes.
Once clear from enemies, switch to Michael so Trevor flies to the checkpoint.
Switch to Trevor before landing.

Accuracy: Finish with a shooting accuracy of at least 60%.

Shoot as Michael and use his special ability.

Headshots: Kill 10 enemies with a headshot.

Use the sniper rifle with Franklin.
Use Michael's special ability.
Note: You can complete each Gold Medal requirement in multiple playthroughs of the mission. You don't need to obtain them all in one single playthrough.
Three's Company - Mission Details:
Michael meets Dave outside the FIB headquarters. Dave is sitting with Steve Haines and Andreas Sanchez. The FIB doesn't want IAA to find out about their dodgy doings so Haines tasks Michael with extracting Ferdinand from the IAA headquarters as they're ramping up the interrogation after Michaels escape from the morgue. Michael initially refuses but Haines manages to coerce Michael into doing it.
Michael and Dave head to a FIB warehouse in East Los Santos. On the ride over, Michael calls Franklin to get him onboard in helping. Dave also asks Michael to call Trevor but he refuses. However, Dave knew he would say that and has already picked him up.
At the meeting point, Trevor and Franklin meet and Michael explains the task. Trevor needs to fly Michael to the target while Franklin will be coving Michael from across the street with a sniper rifle.
Trevor flies Michael to the IAA headquarters in a helicopter. Once there, Michael jumps out of the helicopter and rappels down the side of the Agency building until he reaches the office where Ferdinand is being interrogated. Michael breaks the window, grabs Ferdinand and holds a gun to his head.
From across the street, Franklin takes out all the guards in the office. Michael jumps out the window, carrying Ferdinand and Trevor pulls them up. Play switches back to Franklin, who a chopper on his tail. Franklin takes it out and play goes back to Michael and Trevor in the helicopter. They're now being pursued by choppers. Michael takes them out and Trevor flies back to the meeting point.
A couple of FIB agents meet them there and takes Ferdinand away. Michael and Trevor say their goodbyes and split up.
Three's Company: Mission Objectives
Go to

Dave

.
Get in

Dave's car

.
Go to the

meeting point

.
Fly to the

Agency headquarters

.
Rappel down the Agency office window.
Take down the

choppers

.
Land the helicopter at the

meeting point

.
Three's Company: Mission Info
Mission Number

23

Mission Type

Mandatory Mission

Mission Giver

Federal Investigation Bureau (FIB)

Protagonist (Playable)

Michael De SantaFranklin ClintonTrevor Philips

Location

FIB Headquarters; Downtown Los Santos; IAA Headquarters; Dutch London Warehouse

State / Area

Los Santos
Rewards

Steve Haines as Director Mode character.

Unlocked Items

FroggerAP PistolHeavy SniperGrass Roots - FranklinGrass Roots - TrevorPaparazzo - The Partnership
Three's Company: Videos
PS3 / Xbox 360: Gold Medal Video Walkthrough
PS4 / Xbox One (First Person): Gold Medal Video Walkthrough
Three's Company: Screenshots
Artworks