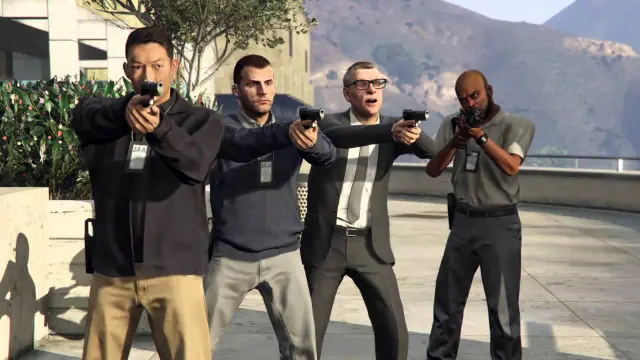 The International Affairs Agency (IAA) is a government organization featured in Grand Theft Auto V and GTA Online.
The International Affairs Agency is based on the real-life Central Intelligence Agency (CIA) and National Security Agency (NSA) and is an intelligence agency featured in the HD universe.
The IAA is heavily corrupt and abducts public funding for its own benefits. After 2013, the IAA began to lose funding as terrorist activity had calmed down, so they got involved in a bureaucratic fight over who, between then and the FIB, should receive more government funding.
IAA agents can be seen wearing various tops of different colors - they wear sweaters, jackets or polos, sometimes being seen with badges and gun holsters on their belts.
This Law Enforcement Agency also appears in Grand Theft Auto IV, GTA San Andreas and Grand Theft Auto III.
International Affairs Agency (IAA): GTA V Info
Group Type

Law Enforcement Agency

Faction Type

Government Agency

Nationality

United States

Location

IAA Headquarters, Pillbox Hill (Los Santos)

Occupation

National Security

Also Known As

International Affairs Agency; Agency

Members

Karen DanielsAgent 14

Affiliation

Lester Crest

Vehicles

Annihilator StealthBallerBaller LEBuzzardBuzzard Attack ChopperFIB (Buffalo)FIB (Granger)GrangerHauler CustomInsurgentInsurgent Pick-upMobile Operations Center (Trailer)PatriotPolice MaverickUnmarked CruiserValkyrieZion

Weapons

Assault RifleAssault ShotgunBullpup RifleBullpup ShotgunCarbine RifleCombat MGCombat PistolMicro SMGPistolPump ShotgunSMGSniper Rifle

Based on (Real Life)

CIA
International Affairs Agency (IAA): GTA V Appearances
Appearances in Story Missions: