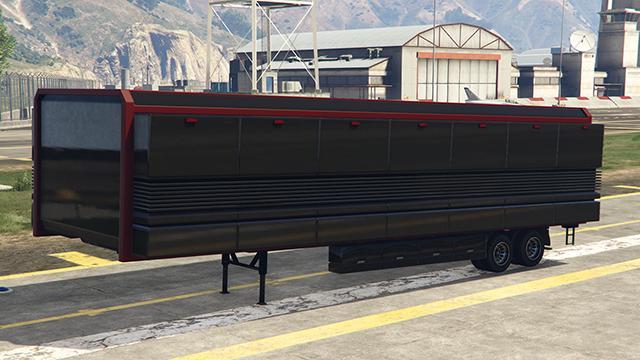 The Mobile Operations Center (MOC) is a Weaponized Truck and Trailer property featured in GTA Online (Next Gen), added to the game as part of the 1.40 Gunrunning Pack update on June 13, 2017.
How to get the MOC in GTA Online
The Mobile Operations Center can be purchased from Warstock Cache & Carry once a player owns a Bunker, and can be pulled by either a Phantom Custom (for $1,225,000) or a Hauler Custom (for $1,400,000).
How the Mobile Operations Center works
Players can customize their Mobile Operations Center at the Bunker Vehicle Workshop, with a choice of Truck Cab, Trailer Bays and Interior Color.
The MOC Trailer has space for 3 different Trailer Bays which can be filled with the following:
Weapon Workshop

This bay includes a Weapon Workshop that gives players access to 6 new Mk II variants of existing weapons and over 80 new Mk II personal weapon mods.

Weapon & Vehicle Workshop

This bay includes the Weapon Workshop and a Vehicle Workshop that is used for modifying Weaponized Vehicles (this uses 2 of the 3 available bays).

Personal Vehicle Storage

This bay includes a storage space for one of a player's Personal Vehicles.

Living Quarters

This bay includes Seating, a Wardrobe and access to the Mobile Operations app used for launching Mobile Operations.

Command Center

This bay includes a Wardrobe, access to the MOC Remote Turret and the Mobile Operations app used for launching Mobile Operations.
Vehicle Information
Vehicle Name

Mobile Operations Center (Trailer)
Seats

3

Mass / Weight

13,500

KG

Drive Train

RWD
For heavy duty tactical operations on the move, arms dealers can invest in a Mobile Operations Center (MOC), the kind of powerful support usually enjoyed only by trained assassins or rogue nuclear states. Storable in your Bunker, this drivable command center's modular construction allows for tailored combinations of vehicle workshop, weapons workshop, luxury living quarters, and command center - with facilities for upgrading and customizing your arsenal and modifying Weaponized Vehicles (including turrets for your MOC that can be manned by your squad) - all at your fingertips, and pulled by a fully customizable commercial semi.
Notes

Gives access to Mobile Operations Missions to unlock discounted prices on Weaponized Vehicles. Requires a Bunker Property.

In-Game Model Name

trailerlarge
Appearances
Release Date

June 13, 2017

Title Update

1.40 Gunrunning Pack

Game Edition

GTA Online

Platforms

PC

PlayStation 4

Xbox One
Screenshots
Custom User Vehicles
Artworks & Promotional Posters
Video