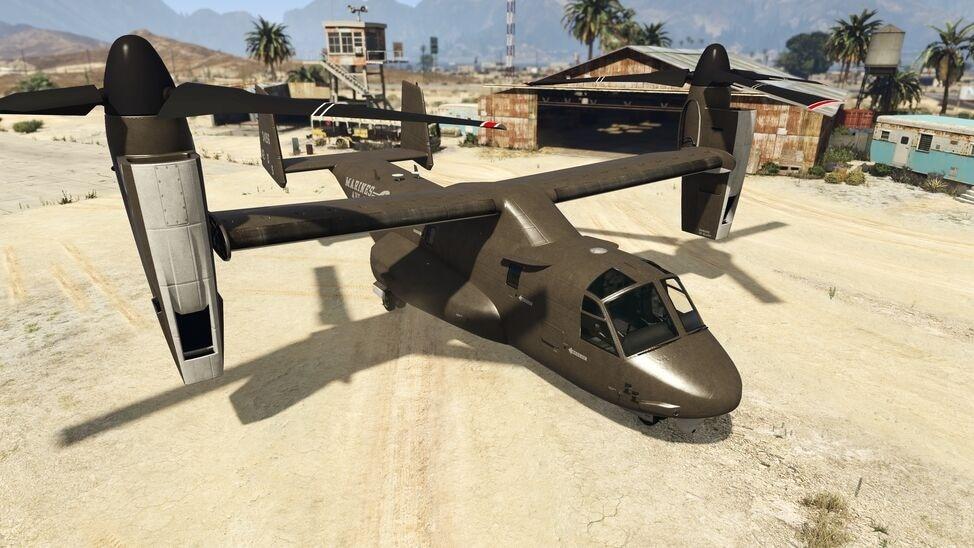 The Mammoth Avenger is an armored weaponized Plane featured in GTA Online, added to the game as part of the 1.42 The Doomsday Heist update on December 12, 2017.
It comes with Stealth Mode, which makes the vehicle become hidden from the minimap and allows the entire crew to navigate without being spotted by enemy radars. It's equipped with a Rocket Boost, that can be used for very quick acceleration and as a rechargeable speed boost. This aircraft can perform vertical take-off and landing (VTOL), meaning it can hover, take off and land vertically without the need of a runway.
How to get the Avenger in GTA Online:
The Avenger can be purchased in GTA Online from Warstock Cache & Carry for a price of $3,450,000.
The Avenger can be stored in the Hangar (Personal Aircraft) and Facility Property. It can only be customized at the dedicated Vehicle Workshop in the Hangar (Personal Aircraft), Facility Property.
Once acquired, you can request the delivery of the Avenger from the Interaction Menu - Aircraft, Interaction Menu - Services. However, the Avenger cannot be used in standard races.
Can accommodate up to 30 players.
How the Avenger works
The Avenger has similar functionality to the Mobile Operations Center, with optional add-ons such as a Gun Turret, a Vehicle Workshop and a Weapon Workshop that can be purchased. The Avenger can also be customized with a choice of interiors.
Mammoth

Avenger in Real Life:

The design of the Mammoth Avenger is based on a real life V-22 Osprey.
Mammoth

Avenger Top Speed:

The actual top speed of the Avenger in GTA V is 178.50 mph (287.27 km/h) when it's fully upgraded, as it's been accurately tested in-game by Broughy1322.

The Avenger is an armored vehicle, and with full Armor it requires 23 Homing Missiles to be destroyed.
Can you sell the Avenger in GTA Online?
No, you cannot sell the Avenger. Unfortunately in GTA Online it's not possible to sell Special Vehicles, Pegasus, or Facility Vehicles.
Avenger: GTA V Vehicle Info
Vehicle Class

Planes

Manufacturer

Mammoth

Vehicle Features

Armored VehicleAutopilotBombs ModBulletproof - FrontBulletproof - SideBulletproof - RearCommand CenterCountermeasuresHas LiveriesHas VariantsHover ModeNo Passive ModeRocket BoostStealth ModeUnique Radar IconVTOLWeaponized Vehicle

Acquisition

Warstock Cache & Carry

GTA Online Price

$3,450,000

Storage Location

Hangar (Personal Aircraft)Facility Property

Delivery Method

Modifications

Point of Storage

Sell

Cannot be sold

Race Availability

Transform Races Only

Top Speed - Game Files

155.34 mph (250.00 km/h)

Based on (Real Life)

V-22 Osprey
Seats

5

Mass / Weight

18,000

KG
Avenger: GTA V Performance
The below Top Speed & Lap Time have been accurately tested by
Broughy
.
Top Speed - Real

178.50 mph (287.27 km/h)

Lap Time

0:39.421

Bulletproof

Bullet resistant windows from all sides (rear has no windows)

Explosive Resistance

Amount of explosives required to destroy the Avenger, with 100% armor, and occupied by a player:

| Explosive Weapon | Amount |
| --- | --- |
| Homing Launcher / Oppressor Missiles / Jet Missiles | 23 |
| RPG / Grenades / Sticky Bomb / MOC Cannon | 8 |
| Explosive Rounds (Heavy Sniper Mk II) | 19 |
| Tank Cannon (Rhino / APC) | 4 |
| Anti-Aircraft Trailer Dual 20mm Flak | 2 |

Note: The Avenger has half-resistance when it's not occupied by a player.
Avenger: GTA V Statistics
Speed

76.07

Acceleration

47.32

Braking

45.00

Handling

1.65

Overall

42.51
Note: The above statistics are coming from the Rockstar official website.
Avenger Description:
So you're an aspiring criminal and you and your crew have been tasked with staving off an existential threat, but you need just the right vehicle. How about a vertical take-off, turreted, flying fortress/experimental weapons lab in the sky/death-spitting collateral damage producer that practically flies itself? The Avenger is all these things and more. Store it in your Facility, get it fitted out with a Vehicle Mod Shop, a Weapon Workshop, and a suite of ferocious weapon upgrades, and you'll soon be wreaking a whole new level of havoc without ever having to land.
Avenger: GTA V Appearances
Release Date

December 12, 2017

DLC / Title Update

1.42 The Doomsday Heist

Game Edition

GTA Online

Platforms

PC

PlayStation 4

Xbox One
Notable Owners:

Merryweather SecurityMilitary

Similar Vehicles
Model ID

avenger

Notes

Can accommodate up to 30 players.

Avenger: Vehicle Customization

Total Cost to Fully Upgrade in GTA Online

$2,394,850

Modification
GTA Online Price
Charlie Upgrades > Mammoth Avenger Thruster

Mammoth Avenger Thruster

$750,000

Charlie Upgrades > Autopilot Defenses

None

Stealth Module

$350,000

Missile Lock-on Jammer

$350,000

Charlie Upgrades > Primary Weapons

Front-Mounted Turret

FREE

Front, Top and Rear Turrets

$240,000

Charlie Upgrades > Machine Guns

None

Machine Guns

$195,000

Charlie Upgrades > Missile Launcher

None

Missile Launcher

$240,000

Armor

No Armor

$1,000

Armor Upgrade 20%

$7,500

Armor Upgrade 40%

$12,000

Armor Upgrade 60%

$20,000

Armor Upgrade 80%

$35,000

Armor Upgrade 100%

$50,000

Bombs

None

$700

Explosive

$75,000

Incendiary

$85,000

Gas

$95,000

Cluster

$120,000

Countermeasures

None

$700

Chaff (10)

$70,000

Flare (20)

$110,000

Smoke

$68,500

Engine

EMS Upgrade, Level 1

$900

EMS Upgrade, Level 2

$12,500

EMS Upgrade, Level 3

$18,000

EMS Upgrade, Level 4

$33,500

Handling

Stock Handling

$1,000

Smooth Handling

$20,000

Sport Handling

$27,000

Race Handling

$35,000

Livery

None

$11,400

Basic Camo

$18,240

Zancudo Camo

$19,380

Sprayed Camo

$20,520

3 Color Outline

$21,660

90s Sandbox

$22,800

Modern 5 Color

$23,370

Arid Theater

$23,939

Winter Camo

$24,510

Urban Warrior

$25,080

Nature Reserve

$25,650

Naval Battle

$26,220

Urban Geometric

$26,789

Coyote Geometric

$27,360

Large Geometric

$27,930

Naval Geometric

$28,500

Desert Fractal

$29,070

Urban Fractal

$29,639

Large Digital

$30,210

Medium Digital

$30,780

Small Digital

$31,350

Skulls

Reward

Knuckleduster

Reward

Conveyor

Reward

Stars

?

Tartan

?

Galaxy

Reward

Trees Camo

Reward

Candy Cane

Reward

It's a Wrap

Reward

Deck the Halls

Reward

Pink & Green Camo

?

Yellow & Blue Camo

?

Orange Shade Camo

?

Blue & Green Camo

?

Hunting Camo

Reward

Blue Tartan

?

Santo Capra Coins

?

Sessanta Nove Monogram

Sessanta Nove Multi-color

Reward

Dolla Dolla

?

Respray
See the full list of the available Respray options »
Primary Weapons

Front-Mounted Turret

$700

Front, Top and Rear Turrets

$240,000
Avenger: GTA V Screenshots
Avenger: Custom Paint Jobs
Artworks & Promotional Posters
Avenger Video