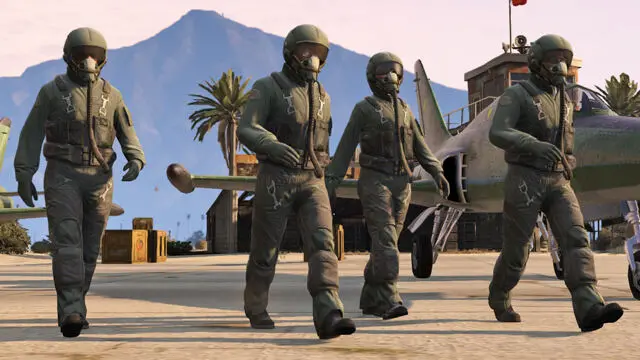 The Military is a government organization featured in Grand Theft Auto V and GTA Online.
The Military is the main defense system of the United States. In Los Santos, their main base of operations is Fort Zancudo and they can be found there at all times.
Unlike previous games, the Military does not take part in Police Chases, but can be seen in several missions, namely big heists like the Paleto Score.
Members of the military have a large array of vehicles, both ground and aerial at their disposal to complete their activities and to divert any unauthorized members from accessing their base.
This Law Enforcement Agency also appears in GTA San Andreas, GTA Vice City and Grand Theft Auto III.
Military: GTA V Info
Group Type

Law Enforcement Agency

Faction Type

Military Force

Nationality

United States

Location

Fort Zancudo

Occupation

National Security

Also Known As

U.S Army

Vehicles

AnnihilatorAnnihilator StealthAPC TankAvengerB-11 StrikeforceBarracksBarracks SemiBarrageBesraBuzzard Attack ChopperCargobobCrusaderFH-1 HunterHalf-trackHauler CustomHydraLF-22 StarlingMiljetMogulP-45 NokotaP-996 LAZERPyroRhino TankRM-10 BombushkaRogueSavageSquaddieThruster (Jetpack)TitanTM-02 Khanjali TankValkyrieVolatolWinky
Military: GTA V Appearances
Appearances in Story Missions: