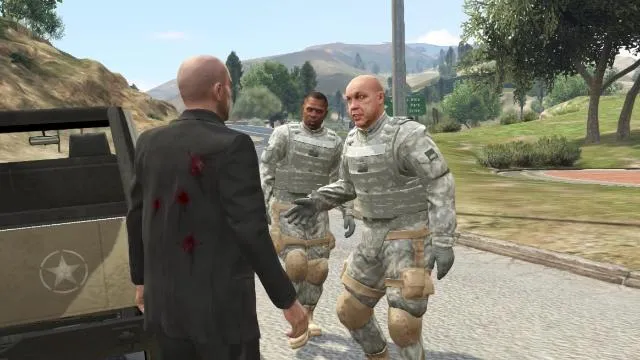 Rampage 4 - Military is a Strangers & Freaks side mission in Grand Theft Auto V, involving protagonist Trevor Philips .
It's the 4° mission for Trevor Philips , after the Rampage 3 - Ballas mission.
This is an optional mission, not required for 100% completion of the game.
Rampage 4 - Military - Mission Details:
Trevor must kill at least 35 military soldiers and destroy Rhino Tanks, within 3 minutes. You have a Grenade Launcher at your disposal.
Trevor approaches two military men that are attempting to repair a Truck near the entrance to Fort Zancuado in Tongva Valley. They start questioning Trevor on what he's doing there but then start mocking him when they notice he has a Canadian accent. Trevor, annoyed with the pair, steals a Grenade Launcher from their Truck.
Trevor now needs to battle with swarms of soldiers for 3 minutes. Not only will soldiers come after Trevor but he'll also have Rhino Tanks to destroy. Trevor will need to eliminate at least 35 soldiers to pass the mission.
Gold Medal Objectives (100%)
The following are the Mission Objectives required to obtain the Gold Medal in the mission "Rampage 4 - Military":
Make 45 kills
Get 6 headshots
Destroy 2 Rhinos
Note: For Rampage Missions, you need to complete every Gold Medal requirement in a single playthrough.
Rampage 4 - Military: Mission Objectives
Neutralize 35 Attacking Soldiers.
Rampage 4 - Military: Mission Info
Rewards

"Red Mist" achievement once all 5 rampages are completed

Featuring

Barracks Crusader Rhino Tank Grenade Launcher Military
Rampage 4 - Military: Videos
PS3 / Xbox 360: Gold Medal Video Walkthrough
PC: Gold Medal Video Walkthrough