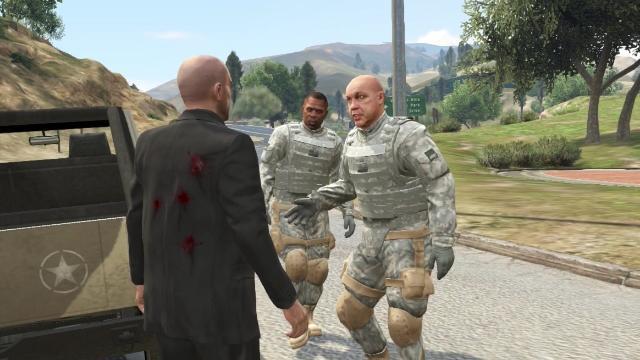 Rampage 4 - Military is a Strangers & Freaks side mission in Grand Theft Auto V, involving protagonist Trevor Philips.
It's the 4° mission for Trevor Philips, after the Rampage 3 - Ballas mission.
This is an optional mission, not required for 100% completion of the game.
Rampage 4 - Military - Mission Details:
Trevor kills military soldiers in a rampage.
Trevor approaches two military men that are attempting to repair a Truck near the entrance to Fort Zancuado in Tongva Valley. They start questioning Trevor on what he's doing there but then start mocking him when they notice he has a Canadian accent. Trevor, annoyed with the pair, steals a grenade launcher from their Truck.
Trevor now needs to battle with swarms of soldiers for three minutes. Not only will soldiers come after Trevor but he'll also have a couple of tanks to defeat. Trevor will need to eliminate at least 35 soldiers to pass the mission.
Gold Medal Objectives (100%)
The following are the Mission Objectives required to obtain the Gold Medal in the mission "Rampage 4 - Military":
Make 45 kills
Get 6 headshots
Destroy 2 Rhinos
Note: For Rampage Missions, you need to complete every Gold Medal requirement in a single playthrough.
Rampage 4 - Military: Mission Objectives
Neutralize 35 Attacking Soldiers.
Rampage 4 - Military: Mission Info
Mission Type

Strangers and Freaks

Mission Giver

Trevor Philips

Protagonist (Playable)

Trevor Philips

Location

Route 68, Tongva Hills

State / Area

Blaine County

Required for 100%

No
Rewards

"Red Mist" achievement once all 5 rampages are completed

Featuring

BarracksCrusaderRhino Tank Military
Rampage 4 - Military: Videos
PS3 / Xbox 360: Gold Medal Video Walkthrough
PC: Gold Medal Video Walkthrough