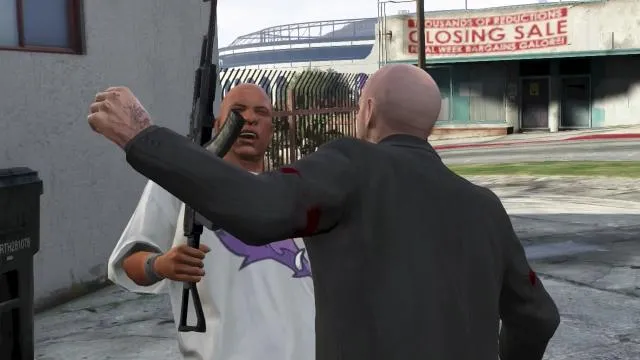 Rampage 3 - Ballas is a Strangers & Freaks side mission in Grand Theft Auto V, involving protagonist Trevor Philips .
It's the 3° mission for Trevor Philips , after the Rampage 2 - Vagos mission.
This is an optional mission, not required for 100% completion of the game.
Rampage 3 - Ballas - Mission Details:
Trevor must kill at least 30 Ballas gang members within 2 minutes.
Trevor approaches a couple of Ballas hanging out in a street in Strawberry. The Ballas start questioning Trevor, asking what he's doing in their neighbourhood. They start to surround him but Trevor is already annoyed so he headbutts one of the Ballas and steals his gun.
The second Ballas runs away but more Ballas swarm to the scene. Trevor must now battle various waves of Ballas for 2 minutes. At least 30 Ballas need to be eliminated to pass the mission.
Gold Medal Objectives (100%)
The following are the Mission Objectives required to obtain the Gold Medal in the mission "Rampage 3 - Ballas":
Make 50 kills
Get 6 headshots
Destroy 2 vehicles
Note: For Rampage Missions, you need to complete every Gold Medal requirement in a single playthrough.
Rampage 3 - Ballas: Mission Objectives
Neutralize 30 Gang Members.
Rampage 3 - Ballas: Mission Info
Rampage 3 - Ballas: Videos
PS3 / Xbox 360: Gold Medal Video Walkthrough
PC: Gold Medal Video Walkthrough