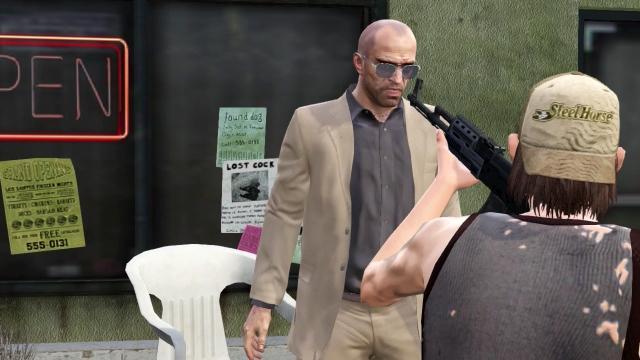 Rampage 1 - Rednecks is a Strangers & Freaks side mission in Grand Theft Auto V, involving protagonist Trevor Philips.
The mission becomes available after completing the Trevor Philips Industries story mission.
It's the first mission for Trevor Philips.
This is an optional mission, not required for 100% completion of the game.
Rampage 1 - Rednecks - Mission Details:
Trevor must kill at least 25 rednecks within 2 minutes.
Trevor approaches a pair of rednecks, outside a store in Sandy Shores. The pair are drinking beer and Trevor asks for a sip of it. They start insulting Trevor which riles him up. The redneck explains that he meant nothing by it but calls Trevor an old man in the exchange.
The other redneck gets annoyed and pulls out a gun on Trevor, calling him creepy. Trevor punches the redneck and steals his gun. The pair run away but shout there's a guy with a gun, prompting Trevor to get swarmed by rednecks.
Trevor now needs to defeat the various waves of rednecks in 2 minutes. At least 25 rednecks need to be eliminated to complete the mission.
Gold Medal Objectives (100%)
The following are the Mission Objectives required to obtain the Gold Medal in the mission "Rampage 1 - Rednecks":
Make 45 kills
Get 3 headshots
Destroy 2 vehicles
Note: For Rampage Missions, you need to complete every Gold Medal requirement in a single playthrough.
Rampage 1 - Rednecks: Mission Objectives
Rampage 1 - Rednecks: Mission Info
Mission Type

Strangers and Freaks

Mission Giver

Trevor Philips

Protagonist (Playable)

Trevor Philips

Location

Marina Drive, Sandy Shores

State / Area

Blaine County

Available After Mission (Story Mode)

Required for 100%

No
Rewards

"Red Mist" achievement once all 5 rampages are completed

Featuring

Bison
Rampage 1 - Rednecks: Videos
PS3 / Xbox 360: Gold Medal Video Walkthrough
PC: Gold Medal Video Walkthrough