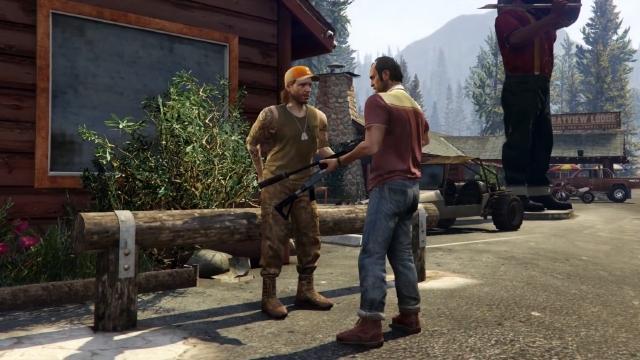 Fair Game is a Strangers & Freaks side mission in Grand Theft Auto V given by Cletus Ewing, involving protagonist Trevor Philips.
It's the 2° mission for Cletus Ewing, after the Target Practice mission.
This is an optional mission, not required for 100% completion of the game.
Fair Game - Mission Details:
Cletus takes Trevor to deer hunting.
Trevor receives a text from Cletus, asking to meet him at a lodge in Paleto Forest. Cletus is hunting elk and wants Trevor to join him. Once there, Cletus gives Trevor a deer call before heading into the forest.
Trevor follows Cletus. On the way into the forest, Cletus explains the basics of hunting elk which include moving against the wind so his scent isn't detected by the elk, using the deer call to locate any animals and don't kill any elk without antlers as they're female.
Cletus leads Trevor to a deer and he uses the hunting ways to kill him without being detected. Cletus then asks Trevor to use the deer call to lure one out. Trevor does this and kills a second elk. Trevor does the same again to hunt and kill the third elk.
Cletus has to leave but asks Trevor to hunt and kill one more elk and send him a picture of its corpse. Once Trevor has done this and sent the photo, Cletus will call him with a proposition. He wants Trevor to hunt more elk and send him the pictures of their location so Cletus can sell the meat. Trevor says he has a lot going on right now but will think about it.
Gold Medal Objectives (100%)
The following are the Mission Objectives required to obtain the Gold Medal in the mission "Fair Game":
Downwind: Don't get detected by an Elk

Do not get too close to the elk.
Move against the wind to avoid being smelled by the elk.

Heart Hunter: Kill 3 elk with a heart shot
Note: You can complete each Gold Medal requirement in multiple playthroughs of the mission. You don't need to obtain them all in one single playthrough.
Fair Game: Mission Objectives
Follow

Cletus

.
Hunt the

elk

.
Return to

Cletus

.
Hunt the

elk

.
Approach the

elk's corpse

.
Photograph the

corpse

.
Send this picture to Cletus.
Fair Game: Mission Info
Mission Type

Strangers and Freaks

Mission Giver

Cletus Ewing

Protagonist (Playable)

Trevor Philips

Location

Bayview Lodge, Paleto Forest

State / Area

Blaine County

Required for 100%

No
Rewards

Hunting side-activity; Deer Call

Unlocked Items

Hunting Challenges
Fair Game: Videos
PS3 / Xbox 360: Gold Medal Video Walkthrough
PC: Gold Medal Video Walkthrough