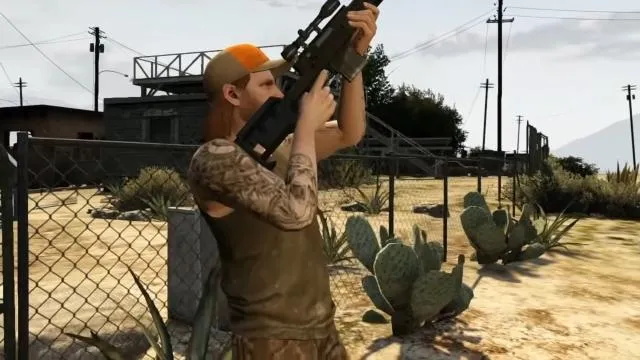 Target Practice is a Strangers & Freaks side mission in Grand Theft Auto V given by Cletus Ewing, involving protagonist Trevor Philips.
The mission becomes available after completing the Nervous Ron story mission.
It's the first mission for Cletus Ewing.
This is an optional mission, not required for 100% completion of the game.
Target Practice - Mission Details:
Cletus invites Trevor to shoot Sattelite Dishes, Coyotes and Car Tyres with his sniper rifle.
Trevor meets Cletus outside on Marina Drive in Sandy Shores. Cletus tells Trevor he's hunting. When Trevor questions what he just replies "stuff". Cletus invites Trevor to come hunting with him which Trevor gladly accepts.
The pair head up to a lookout on Cletus's house. Cletus points out three satellite dishes and asks Trevor to shoot them down with a sniper rifle. Next, the pair get into a car and drive to an abandoned hotel in the west of the town.
Cletus takes Trevor up to the second-floor balcony of the hotel. There, Cletus tasks Trevor with shooting out three tyres on passing cars. After, Cletus has just one more task for Trevor.
The pair now head to the roof of the hotel. There's been a couple of coyotes running around and Cletus thinks it will be the neighbourly thing to do to get rid of them. Trevor snipes three of the coyotes and the rest disperse.
Cletus invites Trevor to join him elk hunting in Paleto Bay whenever he is free.
Gold Medal Objectives (100%)
The following are the Mission Objectives required to obtain the Gold Medal in the mission "Target Practice":
2 for 1: Kill 2 coyotes with one shot
Pop! Pop!: Shoot all 3 tires with an accuracy of at least 75%
Bad Signal: Shoot all 3 Satellite dishes without missing
Note: You can complete each Gold Medal requirement in multiple playthroughs of the mission. You don't need to obtain them all in one single playthrough.
Target Practice: Mission Objectives
Follow

Cletus

.
Snipe the

Satellite Dishes

.
Go to the

motel

.
Snipe a tire on three passing cars.
Snipe three

coyote

.
Target Practice: Mission Info
Mission Type

Strangers and Freaks

Mission Giver

Cletus Ewing

Protagonist (Playable)

Trevor Philips

Location

Marina Drive, Sandy Shores

State / Area

Blaine County

Available After Mission (Story Mode)

Required for 100%

No
Featuring

Patriot
Target Practice: Videos
PS3 / Xbox 360: Gold Medal Video Walkthrough
PC: Gold Medal Video Walkthrough