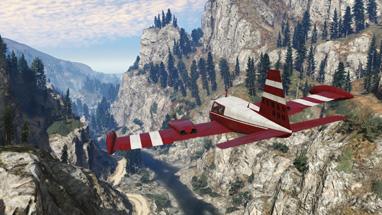 Mission Information
Mission Number

20

Mission Type

Mandatory

Mission Giver

Trevor Philips

Description

Trevor and Ron intercept a weapons shipment.

Protagonist (Playable)

Trevor Philips

Location

Trevor's Trailer, Sandy Shores; Sandy Shores Airfield; McKenzie Field Hangar

State / Area

Blaine County
Rewards

$62,680; Properties; New options at Los Santos Customs; Aircraft hangar and helipad available at Sandy Shores Airfield for Trevor

Unlocked Items

MacheteSniper RifleSandy Shores AirfieldTarget Practice
Gold Medal Objectives (100%)
The following are the Mission Objectives required to obtain the Gold Medal:
Headshots: Kill 5 enemies with a headshot.
Time: Complete within 12:30.
Nervous Twitch: Win the race against Ron.
6 Bridges, 1 Plane: Fly under any 6 bridges found along the flight path.
Death on a Wing: Kill all bikers whilst lying on the plane wing.
Note: You can complete each Gold Medal requirement in multiple playthroughs of the mission. You don't need to obtain them all in one single playthrough.
Mission Objectives
Get onto the

ATV

.
Go to

Ammu-Nation

.
Get an advanced scope and suppressor for the Sniper Rifle.
Get onto the

ATV

.
Go to

Ron

.
Climb to the top of the

water

tower

.
Help

Ron

secure the airstrip.
Get to the

plane

.
Follow the

plane

.
Drop the cargo near the

boats

.
Race Ron to the

airstrip

.
Taxi the plane into the

hangar

.
Videos
PS3 / Xbox 360: Gold Medal Video Walkthrough
PS4 / Xbox One (First Person): Gold Medal Video Walkthrough
Screenshots
Artworks